Riding can be barrels of fun for rodeo racers
Hang on for a minute...we're trying to find some more stories you might like.
Your breath slows and your heart's pounding out of your chest. The gate slowly creaks open and the horse lunges, taking off to do what he has been trained to do his entire life. The adrenaline kicks in and the moments slow, the seconds feel more like minutes as you start to weave through the event.
Your heartbeat skips as the horse nears the timer, time seems to freeze as you grab a quick glance. The announcer booms your time for the crowd to hear and you look over at your friends cheering for you. The run is over, but the next one isn't too far away.
Suburban Ranches Riding Club is a nonprofit organization that brings people from all walks of life together to race and compete. Each Saturday, riders come from all over Texas; ranging from Houston all the way to Katy.
"I don't really mind the drive when I get to ride with friends," says Ashlyn Hawk, who lives in Bellville.
SRRC has been open since 1966, and records of the fastest times have been kept on the wall for generations and hopefully for generation to come.
"I've seen members come and go but their memory stays here forever," said club president Leon Free.
Riders of all ages come to enjoy barrel racing.
"It's fun," said 5 year old, Delilah Renolds.
Each year there are two series: winter and summer. Winter series lasts from near the beginning of school till the end of the school year. The prizes in Winter series consists of belt buckles from second place to tenth place, while the first place prize is a saddle.
Summer series lasts from the end of school till the beginning of school. Prizes for Summer series include a lead rope for the 6th and 5th places, a saddle pad for 4th, breast strap for 3rd, a bridle for 2nd, and for first a breast strap and a bridle. Unlike Winter series, Summer series is usually more relaxed and less competitive.
Riders earn points by riding in events, and the place they get in the event determines how many points they receive. The person with the most points by the end of the series wins first place.
"I've always wanted to win the saddle," says Gabby Oliviari. "Sadly, it's harder than it looks. When you ride you gotta ride to win."
Besides riding in the arena, anyone over the age of 14 can work in the concession stand, which relies completely on volunteers and members who have to put in their work hours.
"It can be a pain sometimes but someone has to do it," said Dakota Ginther.

About the Writer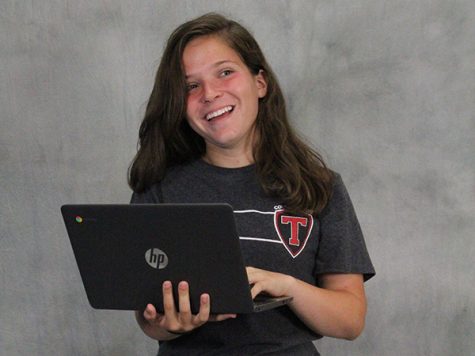 Abi Baldwin, Feature Editor
What's up guys, I'm Abi and I'm the Feature Editor for the Cougar Claw.  I'm and junior and I play tenor saxophone in the Tomball Cougar Pride Marching...