Tomball faces test against Port Neches-Groves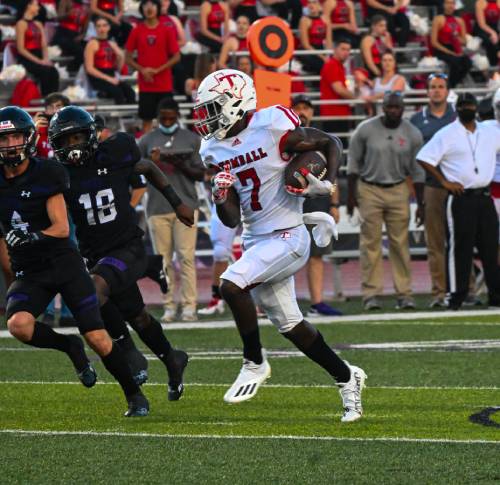 Through two weeks of football the Tomball Varsity football team is 2-0 beating Willis for the fifth time in the last six years 40-27 and shutting out Nimitz 52-0 in the school's first ever game played in the brand new Tomball ISD Stadium.
The Cougars next take on the Port Neches-Groves Indians tonight at the Tomball ISD Stadium with a 7:30 kickoff. The Cougars look to stop the Indians for the second year in a row after a tight win last year on the road in an intense 30-27 victory.
In the last two showings for the Cougars, both sides of the ball have been dominating. For the Cougar offense they have dominated both in the air as well on the ground. Army West Point commit quarterback Cale Hellums has led the charge alongside his wide receiver core of Derrick Taylor and Jayden Grey. On the ground Evan Alaniz and Christian Womack have contributed to multiple scores in the red zone. 
Part of the offensive success is thanks to the spectacular blocking by the offensive line which consists of Army West Point commit Tyler Lee, Colorado School of Mines commit Patrick Mologne, Tulsa commit Landon Roaten, Andrew Wittenbert and Jackson Wallace. 
On the defensive side, the works of Wyoming commit Luke Roaten as well as Colorado State University commit Travis Bates lead the charge on the line.
Going to the game? Don't forget to check out the district's guidelines for the new stadium.