District sets guidlines in place for new TISD Stadium
The THS Football team will be having its first home game at the new TISD Stadium. For those who plan to attend, there are a few guidelines to note.
Spectators are welcome to sit in most sections; however, some are reserved. The sections closest to the jumbotron on the south side of the stadium are reserved for Band and Charms while the upper level stadium chairs are for purchased reserved tickets. The next three sections after fine arts on the lower level will all be specifically reserved for students of THS.
Tobacco products, alcohol, and outside food and drinks are not permitted inside the stadium. TISD also enforces a Clear Bag Policy that limits both the type and size of bags that visitors can bring into the stadium. See below for examples of permitted bags.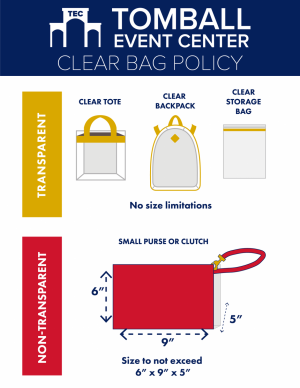 After exiting the stadium, reentry is prohibited. Visitors won't be allowed to cross from one side of the stadium to the other and sitting or leaning on handrails is not permitted. Spectators are also prohibited from throwing things from or into the stands.
"We want students to have fun, but we expect them not to be throwing things, " assistant principal Mark Vierkant said. "We want everyone to be loud and supportive, and we want to make sure the things they're yelling are appropriate."
To purchase tickets to Friday's game against Nimitz, click here.