Freshman boys' basketball tough battle through the first round of district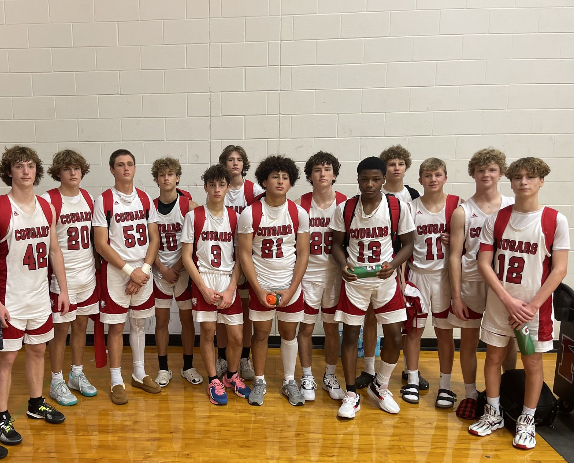 As the first round of district comes to an end freshman boys' basketball has begun making a name for themselves. On the A team, all scores are led by Nick Mutalibov and Dayton Navy, and Grady Gassiott and Jarrett Drown on the B team. All four of these players have not only been stellar scores always finding a way to the basket but are elite playmakers.
Nick Mutalibov #3
Nick is one of if not the best shooters on the freshman squad, making almost every shot he takes. Nick is also very aggressive on defense and forcing his man to get rid of the ball. "We can roll through district as long as we hustle and never let up," he said.
Dayton Navy #13
After missing the first few games of the season Dayton shocked all of Tomball hoops when he showed off his athleticism and aggression on the drive. On Jan. 14 Tomball took on Klein Cain where Dayton went 6/8 overall scoring 15 points, 10 rebounds, 2 steals, 1 block, and 1 assist. Although he didn't lead in points that game, he had the best performance having a double-double. "As much as I want to win district, as long as the team as a whole does their best there isn't anything to worry about," he said.
Grady Gassiott #44
Grady is by far one of the best players on the B team. He not only serves as a scorer but a fabulous playmaker and makes sure everyone has a smile on their face. On Jan. 18 when Tomball took on Klein, Grady played the whole game with an injured wrist. "Winning district is possible, we just need to step it up a little bit as a whole," he said.
Jarrett Drown #0
Jarrett is a different type of basketball player, being the shortest out of any Cougar team. He leads the B team as the starting point guard. Even though he stands at only 5'5″ he always finds a way to help the team whether it's scoring or playing lockdown defense. "I'm not the type to blame teammates, all we need is to have better chemistry," he said.
These top four manage to lead their team every game and are always showing off their athleticism, shooting, playmaking and leadership.