Madison Schlundt wins Scholastic writing award
Hang on for a minute...we're trying to find some more stories you might like.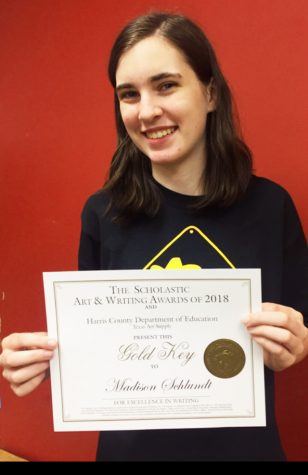 If you use them well, words become magic; that's no secret for writers like Tomball junior Madison Schlundt, whose fantasy-inspired piece titled 'Veins of Ink' was awarded the regional Scholastic Gold Key Award.
"It's basically about an author constructing a story, but it's from the character's point of view," Schlundt said, "I've read a lot of fantasy books that are from the author's perspective, but I wanted to take it in another direction…literally creating a world from a character's view because that's never been done before."
Thousands of students nationwide submit their writing, but to receive this honor, high school writers are judged by a panel of numerous experts that this year included award-winning writers like Barantude Thurston, Edwidge Danticat and John Corey Whaley.
"All works are evaluated through blind adjudication first on a regional level by more than 100 local affiliates of the Alliance and then nationally by an impressive panel of creative industry experts," Schlundt's English teacher Dana Arnold explained.  
Kasey Gershon and Alexis Fowlkes also won awards in the competition.
Even though she has always had a passion and a gift for writing, it was the first time Schlundt submitted her samples for judging.
"I didn't really know what to expect, I mean I had never submitted one before, so I thought 'how good are these people who are submitting it'," Schlundt said.
Arnold, who approved the writing before submission, knew that Schlundt had the potential to do well at competition.
"Madison is a very gifted and unique writer. I expected her to score very high.  However, with all of the entries across the country, I was impressed that she received the "Gold Key" award she received at the regional level," Arnold said "I was thrilled for Madison when I received confirmation of her recognition and award."
Both Arnold and Schlundt were proud of the accomplishment.
"I had never won anything for writing before or had been recognized for it, so it was a cool feeling," Schlundt said.
It was in fourth grade when Schlundt realized her talent.
"I wrote short stories for fun, like after school…so I showed it to one of my teachers so she edited it for me and she thought it was actually pretty good," she said.
Her writing has served her for other purposes including fundraising.
"In sixth grade I sold a story to my close family members and such to raise money for my trip to Washington DC, because my class did it every year in my other school," Schlundt said.
The people who have read her stories have been impressed.
"Madison is a very gifted and unique writer….She possess a gift many individuals would treasure," Arnold said. "Her passion for writing comes out through her story line and characterization. She is noted for pulling the reader into her story and then providing a timely twist at the end that draws the reader into wishing for more."
After this year's success, Schlundt plans to continue submitting her work for competition in the future.
"I definitely want to submit a portfolio my senior year, where you submit all of your works at once with probably mostly short stories, maybe a novel-length piece," Schlundt said. "It has definitely given me more confidence on my writing because now I know people like what I'm writing, so definitely motivates me forward."

About the Writer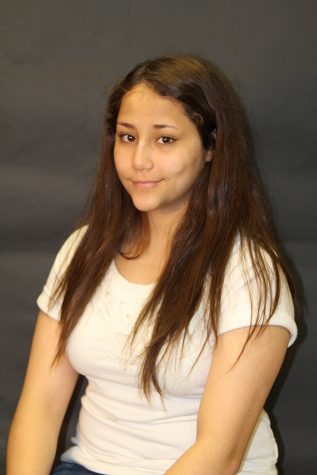 Daniela Roscero, News Editor
Hey! My name is Daniela Roscero. I got involved in journalism to explore new writing styles, but I have discovered so much more than that. I'm excited...