A+ Teachers announced for 2017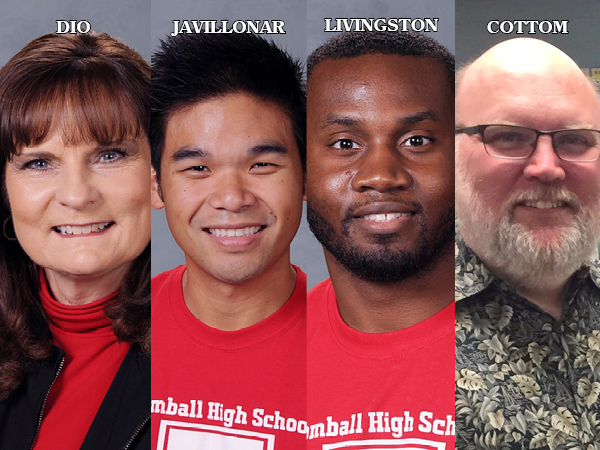 Hang on for a minute...we're trying to find some more stories you might like.
It's that time of year again when the A+ Teachers for the year are announced.
Billie Ann Dio, Jesse Javillionar, Wesley Livingston and Clint Cottom were voted by their peers as the most deserving teachers for the school year.
"To me, these A+ Teachers exemplify all of the various things about THS that are spectacular," said principal Greg Quinn. "They are all extremely caring individuals who work tirelessly to take care of students needs both in and out of the classroom. I could not be more proud to have this group representing The Pride of Texas."
Livingston is in his first full year after joining the staff midway through last school year.
"I am beyond grateful to serve alongside and learn from some many great and establish educators here at Tomball High School," Livingston said. "I am able to be at my best because I work with the best! Thank you all for your love and support."
All four of these teachers work their hardest to make a good impression on their students all while making sure they learn what they need to pass and graduate.
"It's such an honor to be doing what I do at an awesome school," said the librarian know to students simply as Mr. Jesse. "As a librarian, I'm so blessed that I'm in a role in which I get to meet and work with people- students and staff- from all walks of life. And when you get to serve and be with amazing people every day, you just want to give your best and utmost."
This is Dio's fourth time winning A+ Teacher of the year. She also won Citizen of the Year last fall from the Tomball Chamber of Commerce. She has helped countless students and is always in a good mood, on top of all the amazing work she does with student council.
Cottom has been the head director of Tomball High School's theater department for many, many years. And this year he and his cast and crew for One Act Play for UIL had a strong run, going to district, them into regionals before coming out in 2nd.