Tomball High School is visited by a German scholar
Hang on for a minute...we're trying to find some more stories you might like.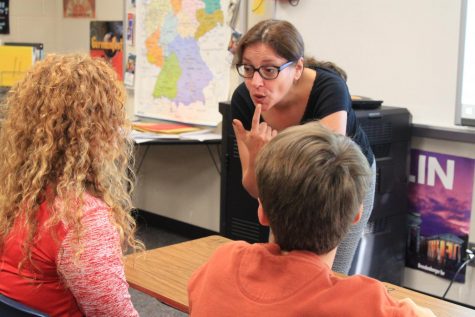 This week, the German classes received a one in a lifetime opportunity by having a scholar from the University of Cologne (Universität zu Köln) in Germany. She visited the class on Tuesday Sept. 19.
The professor of Phonetics was here to help the students who are taking German this year  to pronounce words that would generally be more difficult to speak. With her help, foreigners such as the students of Tomball High School will be able to pronounce the German language more sufficiently and correctly.
"Pronouncing a foreign language can be very difficult," German teacher Brenda Bauske said. "I am not a native speaker; my father is German so my German is near native proficiency, but it is not native proficiency."
The pronunciation of a language, no matter how small the difference is, has seemed to really make a big difference in the understanding of a native speaker. Small changes to the way a word is pronounced can cause the meaning of the word to change and sometimes that can confuse the people being spoken to.
"When the pronunciation is very different, it becomes difficult to understand," foreign exchange student Insa John said, "so of course I think it is important."
Insa and her friend Talea are from Germany and are attending Tomball High School for 6 months and have expressed the difficulty of learning a different language and trying to pronounce words correctly.
"Our pronunciation in English is not perfect … I can understand the words, but sometimes not the meaning," Insa said.
The students in the German class were also excited about the scholar and activity; only a few choice students were eligible to participate.
"It was pretty important for me because it meant I could learn more German and I could have this experience that not all of my classmates were able to have; there were only three of us (chosen) so it was very nice," student Erica Falcon said.
It was an opportunity that students in the German class were able to experience. It allowed students to explore the language even further than what was originally offered to them and helped them become more fluent.