Community rallies to help Harvey victims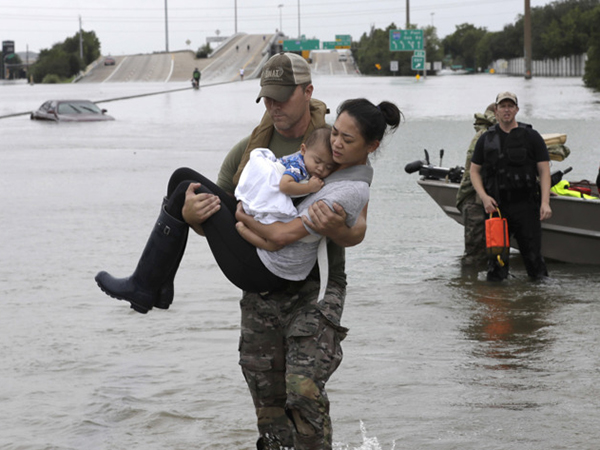 High water has left thousands of families across the greater Houston area in shelters, and the heartbreaking stories of those impacted by the flooding is surpassed only by the many, many stories of everyday heroes helping with rescues, providing hot meals and making donations.
The photo above of a Houston Police Officer, taken by the Associated Press, is already being touted as one of the year's most powerful images.
Hundreds of volunteers from Louisiana (the Cajun Navy) arrived with fishing boats to help rescue flood victims. Gallery Furniture opened its doors not as a furniture store but as a shelter. HEB loaded trucks with supplies and portable kitchens to provide meals.
In Tomball, numerous shelters have opened and many are offering aid.
Tomball students who want to pitch in while schools are closed this week will find plenty of options. Some students have already started – delivering food to neighbors unable to get out of their homes, helping care for displaced pets, donating clothes and food to those left homeless, and so much more.
If you're pitching in, please plan on letting us know. The Cougar Claw is planning full coverage of Harvey and the aftermath when school reopens next week.