Ashton Contreras helps key soccer's success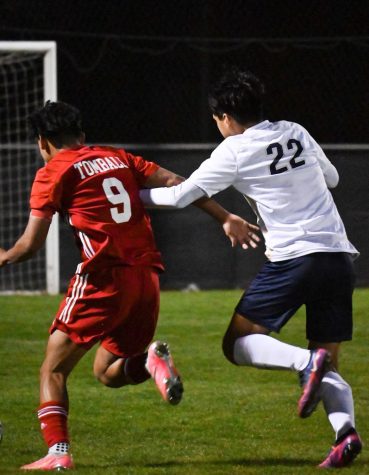 Ashton Contreras is a big reason the varsity soccer team is first in district. The senior has been a striker for the varsity Cougars since his freshmen year, as well as, the Houston Dynamo Youth Academy.  His passion for soccer comes from something bigger than just the sport, his childhood plays one of the bigger roles in why he still has so much love for the sport.
Contreras is one of the best soccer players on his team, with 21 goals in his senior year, and looks to be hungry for more.  He's really proud of everything he's accomplished thus far and hopes to make our school even more proud than he already has.
"My dad put me into soccer when I was 4 because he loved playing himself when he was younger," Contreras said.
Contreras, now 17, has countless memories with the friends he's made playing soccer and a strong family bond tied to soccer, so whenever he plays he truly feels like he's doing something he loves.
"My soccer inspiration is Ronaldo Nazario, he's an old player and a legend in the game," Contreras said. "I love his playing style and I try to mimic it in a way."
This is something that can actually be seen when attending one of Ashton's games in person and seeing him work his magic on the pitch where the influence can be seen more in his dominant play style.
"I'm hoping to get a couple of offers soon, the school I'm really hoping to get an offer from is Georgetown University," Contreras said.
Of course, nothing is finalized yet as he has yet to commit to any certain school. Regardles of what school he attends he wishes to go into business school with hopes of one day operating his very own business.
"I plan to major in something business-related" Contreras said.