5A or 6A? THS Faces Dilemma

Loading ...

As we draw near to February and the pending announcement of the new District Alignment, many people around the school are eager to find out whether or not Tomball High School will be moved to 6A or stay in 5A. If Tomball High School is announced as a 6A school, it will belong to a district with town rival Tomball Memorial, who has been in 6A since two years ago.

"It would be so fun if we could be in the same district as the Wildcats again," said Varsity Soccer player Cooper Murdoch. "Any opportunity to showcase our talent against theirs and compete against them is something I'll enjoy."

THS's student count just barely meets the enrollment minimum, within as little a margin as 50 students. This being said, THS will no doubt be one of the smaller schools in the district if not all of 6A. Many students, coaches, and fans alike will tell you that is much harder for small schools to compete athletically in large districts simply due to the smaller amount of eligible students to participate in sports. With a larger student enrollment count, that school has a better chance of having stand-out athletes than a highschool with a smaller enrollment count. 

"I personally would prefer to be a 5A school," said Varsity Volleyball player Maddie Scott. "We probably wouldn't fare well in 6A and who would rather lose than win?"

If Tomball remains a 5A team, it will easily be one of the biggest schools in all of 5A and athletic success should no doubt accompany the years spent in that district. While yes, success should be easier, that does not exactly ensure an improvement to THS' bragging rights. As previously mentioned, THS has had a long lasting rivalry with the Tomball Memorial Wildcats and though they have experienced similar success in recent years, the Wildcats have been able to hold the title of a 6A school in any debate on which school is better.

"I mean yeah they can say what they want, but who really cares what they say?" said Varsity Basketball player and avid fan Sawyer Link. "Everyone knows we're really the OG Tomball school."

As we continue to await news on whether or not Tomball High School will belong to 6A nest year, make sure to check in at thscougarclaw.com for more news and analysis on the pending new district alignment.
About the Contributor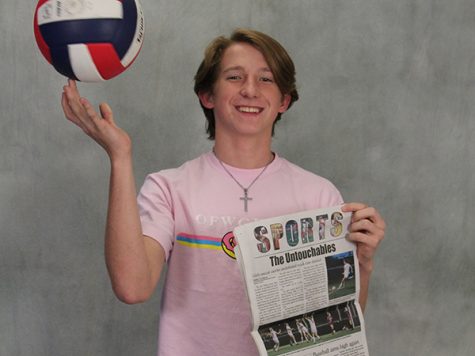 Bishop Van Buren, Sports Editor
Hi! I'm Bishop, the Sports Editor for The Cougar Claw. I'm a senior at THS and love hanging out with friends, playing basketball, and watching football,...