Swimmer Wharton a winner in, out of pool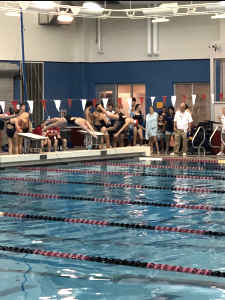 Hang on for a minute...we're trying to find some more stories you might like.
At seventeen, Angela Wharton has managed to become the highest average in her senior class at Tomball High School. However, her exemplary achievements extend to more than just the classroom, Angela is key to the success of the school's swimming team.
Wharton swims competitively for Tomball High School and Tomball Area Swim Club. Both started their season in September and will compete though February.
"I usually have meets on Saturdays about twice a month," Wharton said, "The big meets are districts which is in January, regionals in February, and state in February."
Her success in these dates can be attributed to the amount of time she spends swimming. Wharton practices daily before and after school. Her training ranges from drills inside the pool to in-land workouts.
"I train about three hours a day, five to six days a week," Wharton said.
Wharton's effort is evident in her results and while her times have not been what she was expecting, she is working on dropping them for district and regionals. She hopes to improve them in the 100 and 200 freestyle which are her best events.
"I have been growing each year as a swimmer, which I am proud of," Wharton said.
This dedication has lead her to become the one person every other student on the team looks up to: Varsity Swim Captain. 
"Being captain is a very big honor and I hope to be a good role model for the other swimmers and encourage them," Wharton said.
Two qualities that, according to her teammates, she leads by every day are respect and friendship.
Between meets, training, and team bonding activities, the sport takes up the majority of her time.
"Balancing swim and academics is extremely difficult, as academics are mentally straining while swim is physically exhausting," Wharton said.
This hasn't stopped Angela from being outstanding in her academics. "I have to have good time management to get everything done and get enough sleep," a management that has turned her into the highest average in the senior class.
The strategies implemented in her daily life have lead Wharton to an exemplary performance in all aspects of her high school life. A super girl performance that has inspired everyone around her. As for her future plans she is "more focused on getting into a good college for college for academics than getting into a college for swim."
Angela Wharton is forever thankful for the sport she chose to work so hard on.
"Swimming is a lifelong skill and will follow me for the rest of my life," Wharton said.