"It's not really about me, it's about the team" – Da'veon Ve'an
Hang on for a minute...we're trying to find some more stories you might like.
Down by two with less than two minutes left in the game, Da'veon Ve'an waits in his stance. Just three plays earlier he had rushed in his sixth touchdown of the night to help cut into the Bulldogs lead. Now he waits to take the ball on a game deciding hand off to help save the Cougars playoff hopes.
Ve'an started playing football at the age of five with his cousins. The always active child dominated the backyard and a peewee football coach who watched him recommended to his mom that he join football for the school.
Playing running back for Tomball Junior High, Ve'an quickly established himself as the primer weapon for any offense by dominating for the A team in 8th grade, but his mother only allowed him to play in a limited roll because she was afraid of him getting injured. After two stellar campaigns on the high school sub-varsity many viewed him as a starter on the varsity going into his junior year.
However, that opportunity wouldn't come as new Head Coach, Kevin Flanigan, brought with him an offense that favored the physical downhill running style of Ja'Kobi Holland. Most talented high school athletes would take the easy road and transfer to a school that would get him the ball, but that's not Ve'an's mentality.
Ve'an wouldn't spend the entire season on JV though. On Monday before the Patriot Show against Memorial Coach Flanigan would inform Ve'an that he was moving up to play that week. So after a longer wait than most expected it was finally time to go out under those Friday night lights.
"It was a lot like a JV game," Ve'an said, "except with more people and a band."
As spring football rolled around disaster struck and his mother's fears became reality. Ve'an would break a bone in his arm sidelining him for all of spring ball. At least that was the expectation, but doctors demand Ve'an's bone fully heal before he suit up again, so he kid who had dominated his cousins in the backyard and run through everything in his path could only watch as his team lost to bitter rivals Tomball Memorial and Magnolia West, all with out taking a single handoff.
After the beat down to Mag West, Ja'Kobi Holland would leave to go play for his hometown of Westbrook. An air a negativity resonated after his departure. Many people doubt if Tomball could still compete for the playoff spot, but not Ve'an.
"I wasn't mad or nothing." Ve'an said "I just knew I needed to step up."
Ve'an's first game back was against lowly Caney Creek where he scored a 5 yard touchdown, his first one on varsity, to help spoil there homecoming. In the next week against Waller on his Senior year homecoming Ve'an showed Tomball what they'd been missing scoring 5 touchdowns in a 53-16 victory.
"It felt good to just put my pads on and get back to playing," he said.
Now he waits, the boy who inspired his sister to start playing football at the junior high, the boy who spent his junior year on JV. In a few seconds he will take the ball, cut back to avoid the defender and plugs ahead and score the game wining 2-point conversion to cap off a six touchdown night against a team Tomball hadn't beaten in 12 years and become the hero that saved Tomball's playoff dreams
"Everyone had to be on the same page to win that game," Ve'an said.
About the Contributors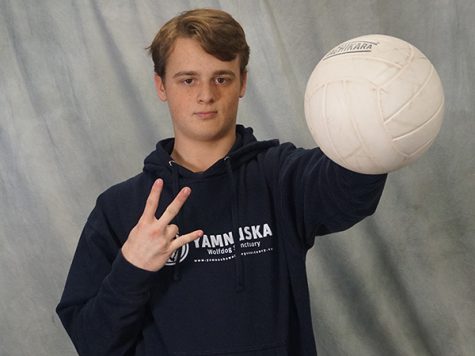 Dylan Busby, Staff Writer
I'm a senior here at THS. I'm a sports writer for the Cougar Claw, I also play for the football team. I plan on attending Arizona State University...