Volleyball creams Huntsville, second time this season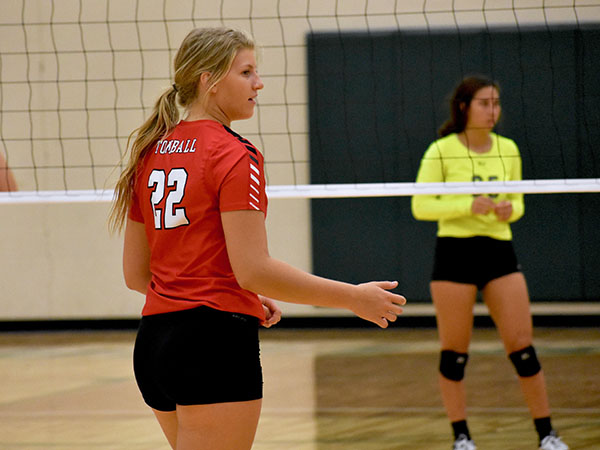 Hang on for a minute...we're trying to find some more stories you might like.
Varsity Volleyball squished the Huntsville Hornets on Tuesday with final scores 25-17, 25-27, 13-25, 21-25.
Seniors Kayla Cannon (#22) and Kendall Glueck (#14) tied for Kill leader with a total count of 10 each.
Junior Ainsley Hardy had 28 recieves and is Dig leader with a total of 21, Junior Chloe Schindewolf is leading Ace with a total of 6, and Junior Caroline Kaiser had 24 Assists.
9A, 9B, and JV where also victorious against Huntsville. With this win, Varsity's overall record is 15-9 and district 8-0.
This Friday the Coogettes will be competing at Magnolia High before the football game.
Make sure to check out the photo gallery. It goes JV, 9A, Varsity, then 9B.
As for last Friday, Tomball Volleyball defeated Willis in three matches at home final scores 19-25, 22-25, 19-25.
"We did great", Kate Sralla said. "We defeated them in only three sets."
Glueck is Kill leader with a count of 11 and Hardy made Dig leader at a total of 16 along with 19 receives.
Junior Ava Johnson (#2), Cannon (#22), Senior Lucy Schaefer (#7), and Glueck each made 2 blocks.
Senior Katelyn Richbourg (#1) and Junior Samantha Chapman (#23) tied for leading Ace with a count of 4 each. Richbourg also tied with Junior Abby Hairell (#21) with 10 Assists each.
"We lost to Tomball Memorial and Brenham." Grace Smith of the JV team stated. "But we've been practicing hard."
The practicing worked because JV and 9A teams squashed Willis, defeating the Wildkats in two sets. 9B fought a hard game but lost.
Below is a photo gallery of volleyball these past couple of games, unlike the one above, this one is in no particular order.