Siblings place in National Junior Olympics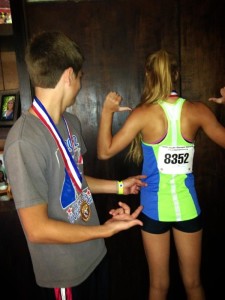 Ali and Kenneth Uhle competed at the National Junior Olympics in Michigan in early August this year, where they both competed in pole vaulting.
Beating his own personal record, sophomore Kenneth Uhle vaulted 12 feet, placing 8th in his division. Though not a personal record, Senior Ali Uhle placed fourth in her division, having reached 11 feet.
This was the first time for both siblings to have competed in the Junior Olympics, though the pair have both been involved in track and field since junior high.
The siblings admit that the fact that they compete separately in the same category has made them more competitive.
"For a while we were jumping the same," said Ali, whose stats had changed as time went on, comparing hers with her brother's.
The pair admit that their best motivation comes from each other, as they practice together and prepared for meets on the field and at home, unafraid of delving out harsh criticism toward each other in the competitive mood.
According to Ali, who is also in the top 10 percent of her senior class, she will "most likely" continue pole vaulting throughout college, as she hopes to go to the University of Texas next year. Her brother would like to go to either Rice or UT, as well.
Also competing in the National Junior Olympics was senior Alyssa Vigil, who placed 8th in Steeplechase.