COUGARS WIN STATE TITLE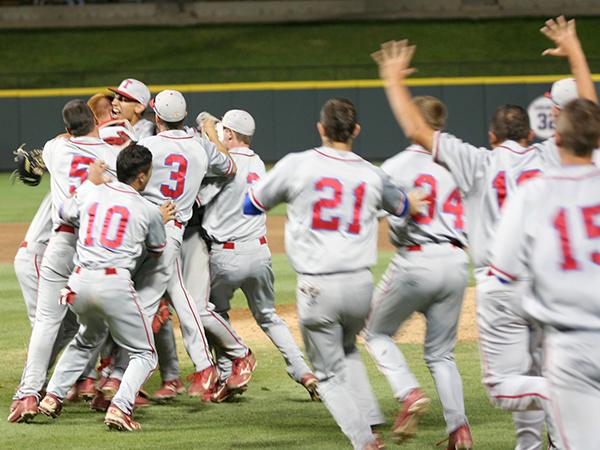 UPDATE: June 7, 2013
Tomball set a ton of firsts this year in baseball, but none as big as this: the first state baseball champions in school history.
The Cougars jumped to an early lead and never looked back, defeating Corpus Christi Moody 6-1 Friday night at Dell Diamond in Round Rock. The win earned Tomball its 35th victory of the season and the Class 4A title.
Click on the video above for a full photo gallery from the state tournament.
***
The Tomball Cougars are a win away from bringing the school its first-ever state title in baseball.
Nick Banks, who got his first start of the season last week in the regional final, went the distance and struck out 10 as the Cougars defeated Wichita Falls Rider 5-2 in the state semifinal. Tomball (34-4) plays at 7 p.m. Friday in the Class 4A title game against Corpus Christi Moody (32-6-1).
Banks also gave the Cougars the early lead with a solo home run in the first inning.
The team left the school early Thursday morning with a parade of police cars and fire trucks, as fans cheered them on along the way. Another win, and the school may need to schedule an even bigger parade.
Check back for results tomorrow, and look for a complete photo gallery from the state tournament Monday.
***
Tomball crushed Foster High 10-0 tonight at Rice University to earn the Cougars their first-ever trip to the state baseball tournament.
With the win, the Cougars (33-4) advance to play at Dell Diamond in Round Rock next weekend, just outside of Austin. The semifinal game is Thursday at 4 or 7 p.m., and if the Cougars win they will play for a state title on Friday night at 7.
This is the deepest Tomball baseball has ever advanced, and they did it in convincing fashion. Nick Banks threw a two-hit shutout as the Cougars collected 15 hits and won by mercy rule in the sixth inning.
Check back for more stories and previews of next week's games here at the Cougar Claw online, and follow us on Twitter at CougarClawNews for updates. Next weekend, we'll have live updates from Austin.
***
It has been a record-breaking year for the Cougar baseball team. Most wins in a season. Deepest playoff run.
But right now, the Cougars have their sights on a first-ever trip to the state tournament.
One win and they're in. Lose, and the season is over.
The Cougars (32-4) take on Foster High School (30-8) on Thursday night at 7, in a single-game Regional Final at Rice University. The winner advances to Austin for the state tournament.
Tomball is likely to face Foster ace Reid Garrett, who brings in a 1.27 ERA and has 91 strikeouts in 83 innings pitched this season.
Cougar Coach Doug Rush is hoping for a strong turnout from Tomball fans Thursday night.