Spirit Night set for student media at Craving Kernels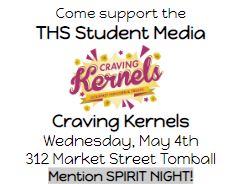 The Student Media program is having a spirit night Wednesday at Craving Kernels, the gourmet popcorn and candy store in Tomball.
Stop by the store, located at 312 Market Street, and mention that you're there for Spirit Night.
The store sells popcorn, fudge, candy and much more. They're a regular partner with Student Media, which does a popcorn fundraiser twice a year as well.