Cougar Charms take 2nd place at MA State Championship contest
The Cougar Charms competed at the Marching Auxiliaries State Championship contest at Klein Oak this weekend, and walked away as the second best team in the state.
At their second competition of the season the team received 16 awards in total.
Elite won 2nd place in the Large Ensemble Category, scoring only 2 points lower than the winning entry. Officers received Super Sweepstakes, Choreography, and Technique awards. Additionally they won 1st place in both the Officer Contemporary and Officer Open categories. With their third successful contest behind them the Officers and Elite team are continuing to prepare for their fourth and final contest next weekend.
The team won 1st place in the Large Select category for both Lyrical and Open, scoring a total of 295.5 and 294.5, respectively, out of 300. Additionally, the Charms won 2nd place in the Large Select category for Contemporary and 3rd place for Pom.  The Cougar Charms also earned the Super Sweepstakes, Choreography, and Technique team awards, as well as a Judges Award for their Contemporary dance. The Charms won 1st place Best in Class, meaning that they scored higher than all other high school teams in the Large Select category. Finally, the Cougar Charms won 2nd place overall in the state competition with only 4 points separating their score from the winning team.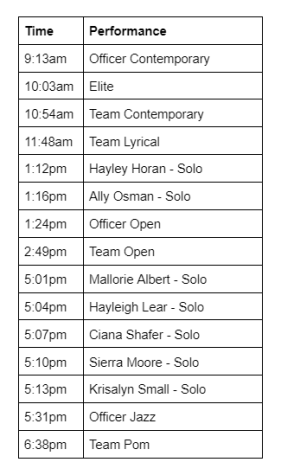 "I'm very proud of the team for making such an amazing comeback at this contest after everything we had gone through together," said senior and Social Committee member Emily Andrews. "The past few weeks have been tough for us, but we were able to push through and come together as a team over the weekend."
Last Saturday was a huge success for the Charms, however their hard work isn't over yet. The Charms will be competing at their last competition this Saturday at the MDDT  State contest for the last time this season. Tickets will be $20 at the door in cash at Klein Cain High School.
"I'm excited that I'll get to wear my senior overalls one last time at the upcoming contest," Andrews said. "I can't wait to attend my last awards ceremony together with my teammates."