Charms officers win Overall Grand Champion at Grand Oaks
The Cougar Charms attended the annual Trendsetters Dance competition at Grand Oaks on Saturday with Officers, Elite, and Solos taking home awards.
Lieutenants Sophia Elliott and Jaysee Pledger competed their three officer dances thus past weekend alongside Major Hayleigh Lear for the first time as an officer line. They won the following awards:
Judge's Award
Overall High Point Technique
Merit Precision Award
Choreography Award for Open, Contemporary, and Jazz
Best in Category for Open and Contemporary
Best in Class Medium Officers
Trendsetters Award of Excellence Award
Overall High Point Officer Line
Overall Grand Champion Officers
"My first contest as an officer couldn't have been better," said Elliott. "I'm super proud of the officers and can't wait to see how we do next contest!"
Hayley Horan, Sophia Elliott, Hayleigh Lear, Jaysee Pledger, Danna Munguia, Madison Oneal, Mallorie Albert, Ciana Shafer and Krisalyn Small competed their Elite team dance in front of the judges, earning themselves the title of Medium Ensemble Winner.
Two of the seven soloists from THS placed in the solo finals, which is highly difficult to accomplish. The awards were as follows:
3rd Runner Up for 9th/10th Public High School – Mallorie Albert
1st Place for 9th/10th Public High School – Sophia Elliott
The Charms will be competing again, including all 4 of their team dances,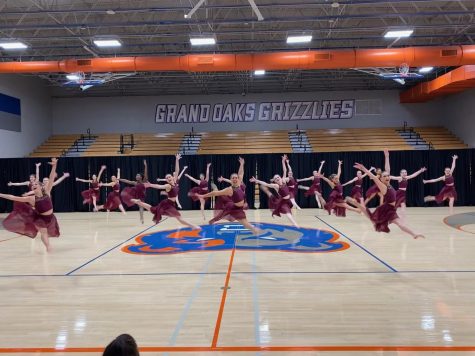 on February 19th at Morton Ranch High School.