New Cougar Block Changes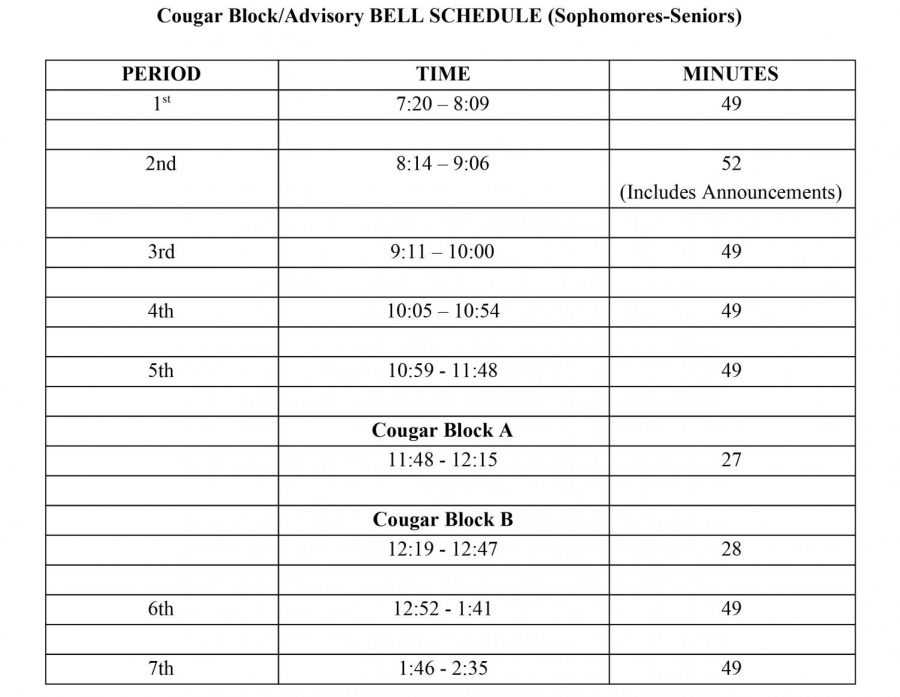 After 3 weeks of the old bell schedule, next week marks the return of the Cougar Block schedule.  
Cougar Block gives everyone two 30 minute blocks after 5th period, except for freshman who take the 1st block for an advisory period. This gives students time to study, eat, go to clubs, do homework, or practice what they need for either the school day or for the next day. Cougar Block can also be used to make up late work, missed tests, or simply talk or get help from a teacher or counselor.
A new change is taking over this year. On every Monday starting next week all students (not just freshmen) will be taking the first half of Cougar Block as an advisory period. This will give time for students to plan out their Cougar Block schedules so they decide what the need for the week and plan which days to do so. 
All students are also required to Character Strong on Mondays.
Hopefully this will help students better utilize the Cougar Block system to keep their grades up, have opportunities to join clubs, and find time to practice what they need.