Follow this Planning Checklist to get ready for college
Hang on for a minute...we're trying to find some more stories you might like.
It is that time of the year again when juniors and seniors are at a turning point in their lives. Juniors are in the path of having to start thinking about what their future plan is after high school. Seniors are either finishing their college applications or waiting to hear back from a college.
For all students, this process might seem dreadful and eternal, however, using a checklist such as this one might lift the burden of your shoulders:
JUNIORS:
Spring-
Contact your counselor before leaving school for the summer if you are considering military academies or ROTC scholarships. If you want a four-year ROTC scholarship, you should begin the application process the summer before your senior year.

Develop a list of 15 or 20 colleges that you're interested in — You can find many colleges at which you'll be happy and get a great education. The college search is about exploring who you are and what you want and then finding colleges that will meet your goals.

Take the SAT — The test is typically offered in March, May, and June. Make sure you start preparing for the test several months in advance. And if you're not happy with your scores when you get them, you might want to test again in the fall. Many students take the test a second time as seniors, and they usually do better.

Start to gather documents for financial aid — Be sure to keep a copy of your tax returns handy. You'll use these to complete the Free Application for Federal Student Aid (FAFSA), which opens on Oct. 1.
Summer-
Register with the National Collegiate Athletic Association (NCAA) Eligibility Center if you are an athlete planning to continue playing a sport in college. Click here for more info.

Get your FSA ID — Before you can fill out your FAFSA, you need to get a username and password.

Visit colleges — While you're there, talk to as many people as possible such as college admission staff, professors, and students. Take campus tours and, at colleges you're serious about, make appointments to have interviews with admission counselors.

Create a resume — a record of your academic accomplishments, extracurricular activities, and work experiences since you started high school. Some colleges allow you to submit your resume and when asking teachers for a recommendation letter, they will often ask to see it.

Start scanning for local businesses and organizations in your area that give out financial aid to graduating seniors. Start a file.
SENIORS:
Spring-
Keep active in school — If you are wait listed, the college will want to know what you have accomplished between the time you applied and the time you learned of its decision.

Visit your final college before accepting — You should receive acceptance letters and financial aid offers by mid April. Notify your counselor of your choice. If you have questions about housing offers, talk to your counselor or call the college.

Inform every college of your acceptance or rejection of the offer of admission and/or financial aid by May 1. Colleges cannot require your deposit or your commitment to attend before May 1. Talk to your counselor or adviser if you have questions.

Send your deposit to one college only.

Take any AP Exams — Show what you've learned in your AP classes. A successful score could even earn you credit, advanced placement, or both in college.

Wait listed by a college? If you intend to enroll if you are accepted, tell the admission director your intent and ask how to strengthen your application.

Need financial aid? Ask whether funds will be available if you're accepted.

Work with a counselor to resolve any admission or financial aid problems.

Ask your high school to send a final transcript to your college.

Review your financial aid awards — Not all financial aid awards are the same, so it's important to choose the aid package that's best for you and your family. Be sure to note what you have to do to continue receiving financial aid from year to year, and how your aid might change in future years.
If you want more information regarding college or college planning, contact Mrs. Nichols in room 1359 or go to her website by clicking here.

About the Contributor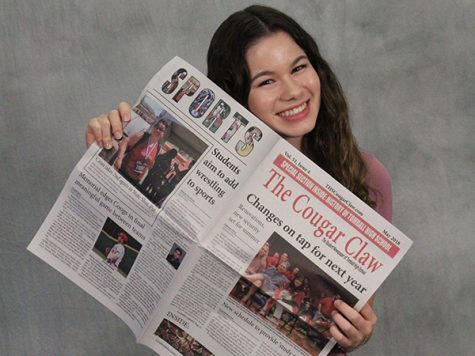 Sabrina Ulloa, Editor-in-Chief
Hi Coogs! I'm Sabrina Ulloa and your Editor-in-Chief for the year. I'm a senior this year and so excited to be working along the newspaper staff to create...