Case Closed: 25 years after brutal murder, justice served
Hang on for a minute...we're trying to find some more stories you might like.
MURDER IN A SMALL TOWN
Victim remembered as a kind soul
Killer known as a violent drunk
Broken glass, busted door, blood.
On the night of August 10, 1993, 82-year-old retired school teacher Mildred Stallones was brutally beaten, sexually assaulted, and murdered in her home by Alfredo Ramirez-Rosas.
Stallones was a beloved member of the Tomball community, mother of two, and had been an school teacher for a number of years at Tomball Elementary. She lived alone on Rudolph Road near the railroad tracks.
About 100 yards behind her house was another house in which lived four Hispanic migrant workers, including Ramirez.
Ramirez was described as the bully of the house. He was violent and used to getting what he wanted, and his roommates described him as a very mean drunk.
On the night of August 9 he reportedly got very intoxicated. He walked next door, to Stallones' house, knowing she was alone, because he had watched her coming and going alone.
When he left his house, it began a chase that would last more than 20 years.
Ramirez broke into her house through the back door, breaking the latch and entering the house. It's unsure what his specific reason for breaking in was, but it was malicious.
Stallones tried to fight Ramirez off with her canes, as evidenced by the many canes lying around the scene in which she was found. Police say Ramirez got angry that she tried to fight him. He struck her in the face many times, sexually assaulted, and strangled her.
After Stallones died, Ramirez went back to the house at which he was staying.
"He tells one of his guys he's living with and he said 'I just killed that lady next door'," said Tomball police detective Ron McGullion, who took over the case years ago.
In attempt to cover his tracks, Ramirez took off his clothes that were drenched in Stallones' blood and stashed them under the house. He gathered his few necessary possessions and fled to Mexico.
The morning after the murder, a Meals on Wheels volunteer brought the food meant for Stallones as a delivery to her house.
"[The volunteer] knocks on the door and doesn't get a response, finally goes inside and sees Ms. Stallones dead," McGullion said.
The scene was gruesome with Stallones' canes lying about on the floor, blood on the victim, the bed in disarray, and Stallones' nightgown pulled up to her neck.
The police were called and when the Tomball Police Department saw that they were dealing with a murder, they contacted surrounding divisions such as the Harris and Montgomery County Police Departments in order to get the resources necessary to solve the case.
Detectives spoke with his roommates, and found out about how Ramirez had apparently informed his roommate that he committed the murder. They also recovered the clothes beneath the house.
"[We] found Ms. Stallones' blood on [the clothes]," McGullion said. "So we were able to tie him directly to the crime."
It took much time, energy, and many years of all involved in the case to find and capture Ramirez. Tomball Police Department worked with Mexico and provided them with information about Ramirez to be able to identify and capture him.
In order to be able to bring Rosas back to the US, a particular type of warrant called a UFAP (Unlawful Flight to Avoid Prosecution) was needed.
"At the time we'd also got the FBI involved because since he'd fled to Mexico," McGullion said, "we needed permission for the warrant to be able to be extradited from Mexico back to the United States so he could face his consequences here."
But Ramirez was not the only suspect. Although it was apparent he did commit the crime, the Tomball Police needed to eliminate any other options.
The "Box Car Killer" was a serial killer in Texas at the time that would ride on box cars and get off at various stops to raid houses and kill the people if they were home. Because Stallones' house was near the railroad tracks, the Box Car Killer had to be officially ruled out as as a suspect.
After all the evidence was gathered and it was determined that Ramirez was indeed the person who killed Stallones, it was submitted to Houston Crime Lab for processing. However due to problems that the Crime Lab was having, the evidence was finally taken back out of fear that some would get lost or mishandled.
"[What] Chief asked me to do was that we pull all the evidence that we had," McGullion said. "We pulled all that evidence from Houston Crime Lab and sent it to the FBI in Virginia."\
Stallones had two children, and her son, Leighton, was determined to get the murderer caught and punished for what had happened.
"Leighton Stallones [was] very instrumental in helping us [catch Ramirez] simply because he wrote legislators, he wrote governors, he wrote congressmen, all these people in hopes of trying to allow us to go into Mexico to get him," said McGullion.
And while the behind-the-scenes work of solving this horrendous crime was happening, the Tomball community changed forever.
"Suspiciousness, doubt, fear all arose in our community–most people thought murders only happened in Houston," President of Tomball Chamber of Commerce Bruce Hillegeist said. "A big city crime taking place in Tomball–and with such violence–was very difficult to relate to."
Many were in disbelief of what was described of the murder scene, and couldn't fathom who would take advantage of a respected and loved older adult in such a terrible way.
"The town was outraged and shocked that something like [that] could ever happen here," former Tomball school superintendent John Neubauer said.
When a crime of this degree took place in small-town Tomball, it shifted the dynamic forever.
"People felt safe in Tomball, the quality of life was very pleasing–that is why many people moved to Tomball," Hillegeist said. "That bit of innocence was lost in August 1993 when Mrs. Stallones lost her life in such a surprising way."
The Tomball Police department kept sending photographs and information about Ramirez to checkpoints at the US-Mexico border for years and years because Ramirez was a migrant worker and crossed the border while going to and from Mexico.
"About 4 years ago, he was coming back to Mexico or coming back to Texas, and a checkpoint guard had seen [Ramirez's] particular wanted poster," McGullion said. "And he said 'That guy looks familiar.' Sure enough he goes back to get this wanted poster, holds it up to him, and they say 'This looks like the same guy.'"
Tomball Police got the US Marshals involved, and they were able to go down to Mexico and apprehend him. Rosas was captured and brought to a jail in Mexico.
Because of the paperwork involved in getting someone extradited from Mexico to the US, Ramirez was held in the Mexico jail for approximately a year and a half before he was finally able to be brought to Houston for his trial.
"When he went to trial, all the work and evidence that we'd done for the last 23 years [was applied]," said McGullion.
Ramirez stayed in the jail in downtown Houston for about a year before his trial. He was found guilty and sentenced to 210 years in prison: 70 years for each crime of robbery, sexual assault, and murder.
"Mr. Stallones and his sister were just elated, as was the police station," said McGullion.
On August 30, 2016, 23 years after Stallones' murder, the crime that shook the foundation of Tomball was finally resolved and Ramirez was convicted.
"It was one of those success stories that we were very glad to be able to put behind us," McGullion said.
++
Calysta Alvarez, Natalie Bivens, Madalyn Botello, Dylan Busby, Renata Elizalde, Riley Falzarano, April Flores, Elise Guerra, Makayla Guice, Jakobi Hardy, Abbigale Herren, Jordan Husfeld, Jenna Jaffray, Logan Lawhorn, Faithlyn Leveillee, Rafaella Lopez, Eric Marquez, Dakota Minto, Madison Ochoa and Janiah Williams contributed to this report. Design by Brooke McGarrah.

About the Writer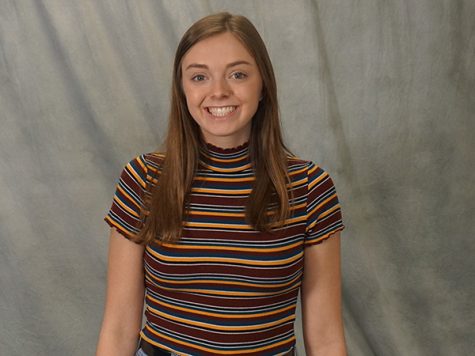 Jenna Jaffray, News Editor
Hi! I'm Jenna and I'm the News Editor for the Cougar Claw and a junior here at THS. I love to run, read, write, watch basketball, and spend time with...