Bus riders stuck with long waits
Hang on for a minute...we're trying to find some more stories you might like.
A second wave of buses has led to lengthy rides home for some students, up to 2 hours after school, due to the growth in the district.
"The growth we are experiencing in our district made it necessary to implement waves at the Tomball Junior High and THS campuses to help us be the safest and most cost effective," Transportation Supervisor Dyna Bigley said.
The second wave is meant to improve the safety of students as they are taken home and to implement cost savings for the district. However, these bus waves are causing students to get home 1 to 2 hours after school ends.
"There's good and bad sides to it," said junior Brooke McGarrah, who rides a second wave bus. "For one we are stuck waiting in either the lower lobby or outside for a long amount of time so if it's really hot outside or now it's getting really cold outside it's not that great."
Many facts had to be taken into consideration when making this decision such as the miles the bus travels when empty, how much time the drivers sit waiting for students to board, the travel time to the first stops, local conditions that delay the bus, number of buses departing from campuses at a time, and most importantly the safest path of travel.
"By splitting the buses up in waves according to their path of travel to their route, we have reduced the amount of time buses are dealing with construction at Hwy. 249," Bigley said.
However, this change affects students in their school life and home life. Since students who go home on the second wave of buses arrive later to their house they have less time to do homework (unless they do it while waiting) and spend less time with their family, or have to be in a hurry if they have somewhere to be after school. This could be an issue for students with jobs.
"Overall it's just not great," McGarrah said, "It just seems very inconvenient."
This is not the first time that the district has implemented a second wave on a school, which is why they are confident that this new change will help the transportation go more smoothly.
"While TJH and THS all loaded at the same time in years past, Tomball Intermediate has had more than one wave for many years," Bigley said. "We have also utilized waves at the south campuses for all the same reasons we are using waves at the north campuses this year."
In order to keep up with the growth in the district, transportation says it will continue to evaluate and implement changes as necessary which in the long run will benefit THS students.
"Our plan for this school year is to continue loading in the waves that were established at the start of the school year," Bigley said.

About the Writer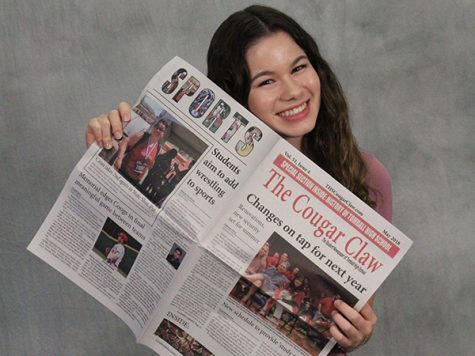 Sabrina Ulloa, Editor-in-Chief
Hi Coogs! I'm Sabrina Ulloa and your Editor-in-Chief for the year. I'm a senior this year and so excited to be working along the newspaper staff to create...