Too Close to Home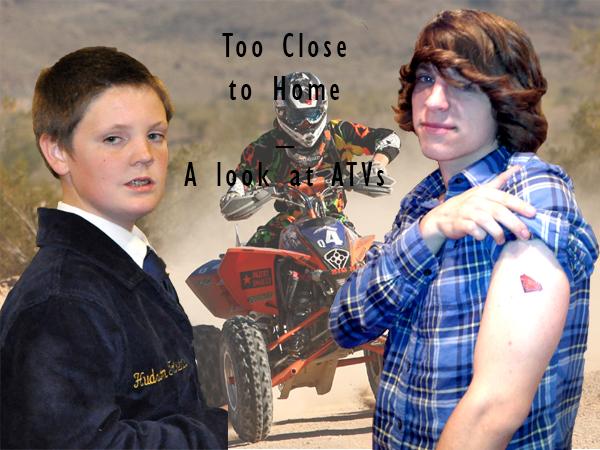 September 18 was a night like any other, except for the mud on the four-wheeling track from the rain earlier that day. It was a Thursday around seven o'clock, and Senior Fredrick Blake Cothren hopped aboard his 1995 Polaris ATV with his 13-year-old cousin.
Cothren, according to the Harris County Sheriff's office, couldn't handle the slick path and hit a tree. He was killed and his cousin was badly hurt.
The boys had waited until Cothren's mother had left home before taking out the ATV.
"They snuck it out and went riding without telling anyone," Leah Cothren said. "Don't take the ATV without your parents knowing. We had no clue."
News of his death spread quickly across social media. Those who knew and loved him were overcome with grief.
"I felt shocked when I first heard the news," said Cothren's girlfriend, junior Cassidi Hale. "I didn't really believe it. The news still really hasn't sunk in yet."
Cothren was heavily involved in the agriculture department during his time here at THS. He raised turkeys and pigs for the FFA program.
Within the last year he became more interested in the mechanical side of agriculture and even picked up welding.
"It has crazy impacted us personally as well our program, and it is a tremendous loss," Cothren's agriculture teacher, Mrs. Reeves said. "He was hilarious. He was always lending a helping hand.
Riding All-Terrain Vehicles is an attractive sport for those who love the outdoors. The feeling of the wind blowing through your hair, the adrenaline rush you get as you speed along the trail, and the blur of the trees around you tends to be appealing. But keep in mind, ATVs can be dangerous."
"Don't let anyone talk you into getting on one with no safety gear," Mrs. Cothren said.
Cothren's crash reminded many students and teachers of ATV accidents in the past involving THS students.
"We have had several injuries and deaths from ATVs in our FFA program," added AG teacher, Mrs. Thomas. "I can agree they can be fun, but they are dangerous."
Three years ago, sophomore Hudson Folkerts, also an FFA standout, died in a horrific four-wheeling accident.
"The wind knocked off his baseball cap. He was on an ATV with two other kids, and they turned around so he could go back to pick it up," said Mandy Folkerts, Hudson's mom, "They slowed down, he leaned over to pick it up, and he lost his balance and fell off. The ground was so hard; he hit his head in the most exact spot."
Folkerts' family used their tragedy to help others. They started a foundation in his honour.
The Hudson Folkerts Foundation gives students scholarships to help pay for animals, feed, and FFA jackets.
"We've been able to bless a lot of kids at Tomball who have been able to raise an animal, who otherwise couldn't have done that. It's so rewarding for my family to see his name live on," Mrs. Folkerts said.
As for Cothren, he will live on in the hearts of the people whom he touched in his short 17 years.
"He was always positive about everything; he was always smiling," Hale said, "I really miss fishing with him."