Graduation requirements see major changes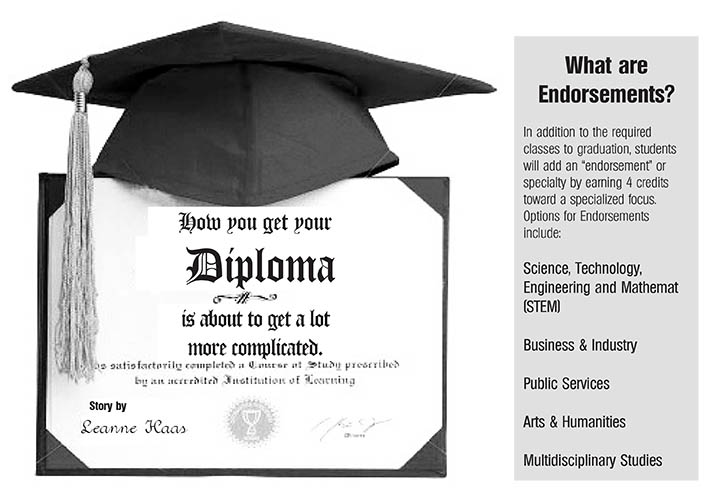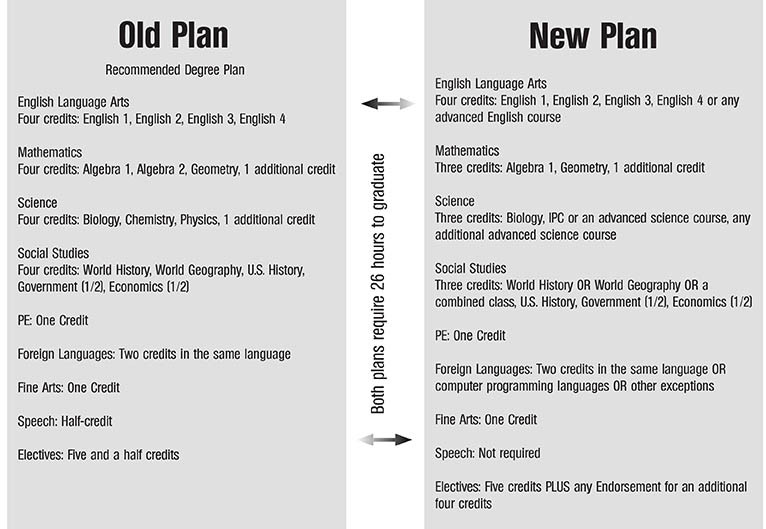 Albert Einstein said: "Everybody is a genius. But if you judge a fish by its ability to climb a tree, it will live its whole life believing that it is stupid."
Critics have accused public schools of taking this approach. Students have been forced to take classes that they feel are useless in relation to their future careers. Some students want to be writers. Others, doctors. Some want to be welders.
So why would an aspiring writer need to spend even a semester in a pre-cal class? Why would a future welder need two years of a foreign language?
Some students feel they are fish being forced to climb trees just to graduate high school, and the Texas legislature seems to be taking note.
House Bill 5, passed in the Texas Senate this year, is due to go into effect next school year. This bill will drastically change graduation requirements.
HB5 has also changed the number of EOC subject tests from 15 to just 5, which will affect this school year's standardized testing as well as years to come.
Starting with next year's freshmen, graduation requirements will consist of a minimum of 3 years of math, science, and social studies, and 4 years of English, in addition to electives and an "endorsement."
Students will choose what discipline of study they would like to focus on, much like a major in college, and can take more classes in that particular subject to prepare themselves for future careers.
Students can choose one of five "endorsements" to focus on, including: Science, Technology, Engineering and Mathematics (STEM); Business and Industry; Public Services; Arts and Humanities; and Multidisciplinary.
Current underclassmen will be allowed to opt into the new plan as well. However, the classes that will be accepted have yet to be determined. The state is scheduled to meet in January to work out details.
For many underclassmen, it will be best to stay on the old graduation requirements. But for others, once classes are determined, it's worth at least looking at the new options.
Future veterinarians won't feel like fish trying to climb trees when they are spending more time in their aquatic and equine science classes while taking AP biology, nor will aspiring writers feel out of place in their creative writing, newspaper and advanced English classes.
"Personally, this bill really speaks to me," said senior Faith Clause. "As a prospective neurosurgeon, I would have loved the opportunity to take as many science courses as possible."
The unique thing about the new graduation requirements, though, is that it doesn't only focus to prospective college students.
"This bill gives students the opportunity to explore other fields," said Dietta Colbertson, spokesperson for the Texas Board of Education.
More vocational classes are expected to be established to accommodate the new graduation plan – classes in addition to the current woodshop, dentistry, welding or HOSA classes.
These are classes that students can take to be certified and get a job in that field without going to college.
TISD Superintendent Huey Kinchen believes that HB5 will hopefully encourage students to stay in school rather than drop out.
"Any time (students) have more choices that fit their interest, they have more tie-in to the school," he said.
House Bill 5 is appealing to some students who would otherwise drop out because it allows a cut-back on what some feel are unnecessary classes which have been required for graduation in the past. This allows more room for vocational classes and takes stress off of students who are not so academically inclined in every subject.
Along with a cut to core class requirements, foreign language will undergo a major change. While still required, students may have options such as computer programming to meet that requirement.
Some students, however, believe learning a second language is essential.
"Being bilingual will help you get a real job," said junior Michael Rodriguez, though he admits he feels he has been "cheated" having to take two years of a foreign language, just for the requirement to be changed.
Even if a class is not required, it likely would still be available, and in some cases students may find it helpful.
Senior Ryan Yockey, having taken algebra 2 the previous year, believes the class is necessary because "a lot of students will find it harder in classes like Pre-cal or Physics".
For now, few details of the new plan are available, nor will they be for some time. The task of preparing and educating students about their options will be in the hands of the counselors, who must guide students in making wise choices when they go to choose their classes for these coming years.