Wildfires hit home for many at THS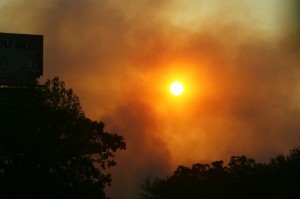 Smoke fills the sky over Texas as wildfires across the state are becoming fiercer and more common. More than 1,300 houses have been claimed, along with thousands of acres of land and counting.
Now, an outbreak north of Magnolia between Todd Mission and Plantersville has ignited an enormous fire, making its smoke cloud visible from not only Tomball, but many other surrounding cities.
Schools in Magnolia and Waller have closed and the smell of smoke hung over the area throughout the week.
A shockingly low humidity level of 17 percent could be to blame for this epidemic, along with higher winds aiding the spread of flames. Because of harsh winds, the fire has become difficult to control by firefighters.
While firefighters battle the flames, volunteers are aiding on the sidelines in any way they can. "I helped to evacuate 30 horses," said science teacher Melissa Hower-Moritz.
Though many people may be miles away from the fire, the effects are still there.
"There are ashes and embers falling over my neighborhood," said Taylor Durr, a sophomore whose home is located near the fire in Magnolia.
Dark clouds of smoke also pose a major health hazard. People with asthma or other lung problems are at risk.
"I can't stay outside for more than a minute. It's really hard to breathe," Durr said.
The devastation in Magnolia and surrounding towns has taken a toll emotionally on many locals, such as THS student Jessica York.
"Yesterday, I found out the house I lived in last year burned down," she said. "I felt like all my memories went up in smoke."
Meanwhile, many are still being told it is not yet safe to return home.
"What do you take whenever they tell you that you won't have anything except what you take?" student Katherine Ewers posed on Facebook.
Sydni Bradley, a sophomore, voices the fears of many.
"It's scary because you can't take everything with you."
Still, residents manage to stay positive, remembering the most important things in life.
"I got my family," Ewers said, "and that's all I need."