The life of Drake Medinger
Drake Medinger is a 10-year old kid in Tomball who is in a fight against cancer. In September 2012, he was diagnosed with Acute Lymphoblastic Leukemia.
His mom, Jessica Medinger, shared a heartbreaking picture on Facebook, which follows her son's fight against cancer. The image shows Drake, clearly in pain, while leaning over the toilet in a bathroom.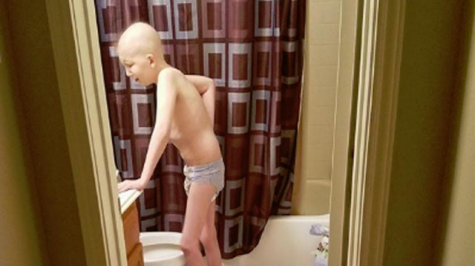 She posted: "This was this morning after carrying Drake to the bathroom. Yes, he is in a pull up because 75% of the time he can't control his bathroom habits. This is skin and bones, because I have to beg him to eat ONE green bean for supper, or drink a cup of water throughout the day. This is having your son sleep with you at night because he is afraid of something happening and being alone, and by something I mean dying."
She also talks in detail about how hard life can be for her son.
"This is him being too weak to get out of bed or walk and needing to be carried or in a wheelchair. This is him falling asleep as someone is talking to him, because he is too exhausted. This is him, throwing up every medication I give him and him dry heaving because his stomach is empty except for the spoonful of yogurt I just gave him with his pills. This is him, having to take 44 chemo pills last week in a matter of 24 hours. This is him telling me, 'mommy, I'm not going to make it.'"
This post has been shared more than 58,000 times and has more than 87,000 likes. It's touched a lot of people's hearts, so they donated money. The goal was $10,000, but this goal was reached a while ago and has now topped $100,000 donated (https://www.youcaring.com/drakeorjessicamedinger-755160). A mailbox has also been set up for anyone wishing to send Drake some love or help his family out with helpful items, such as gift cards.
Drake Medinger
C/O Ericka
PO Box 1725
Tomball, TX 77377-1725
According to his Facebook page, Drake loves college football (Huskers), Pokémon, remote control cars and planes, iTunes gift cards to watch movies and soccer.
"The outpouring of love and support is appreciated," his family said.