THS film club makes their debut through UIL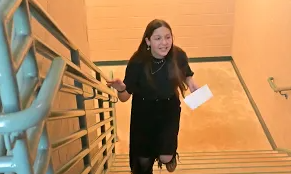 What did you think of Film Club's first show?

Sorry, there was an error loading this poll.

Over the past couple of years, the film club has inactive do to the pandemic. Before the pandemic hit, film club was very active and creating short films left and right. The last time film club was an official club was the 2019-2020 school year.

Now that it's back, they are proud to say the their first official short film was submitted to UIL Film Festival contest. They have been working strategically over the past few months to create a unique and creative film called Ghost Pals.

Ghost Pals is a movie about a girl named Cady who seems to be perfect. She's pretty, popular, and has the cliché mean girl friend group. Nothing in her life could go wrong, until she meets a ghost named Elizabeth in the school library and her life starts to shift. This six minute short film talks about the journey that they both undergo together and how life can change in the blink of an eye.

" My favorite part in the movie is when one of the characters falls down the stairs," said sophomore club member Lorelei Hershel.

Many of the people in film club are very new to the idea of making a movie, and everything that it involves. Not just acting but editing, camera work, sound, and crafting a well-rounded plot are all things that need to taken into consideration.

" I think that it was a lot harder and took way more hours that I expected, and having to find time in everybody's schedule," said junior Meghan Schilder.

One of the hardest parts of creating the film was the editing process. On average, every five minutes of footage is about five hours of editing. This doesn't sound like a lot, but making sure every clip is as seamless as possible can turn into a very tedious process.

"I feel like I've been able to learn a lot about the movie making process," said sophomore Lauren Nolen.