Tomball ISD Art Show displays students' creativity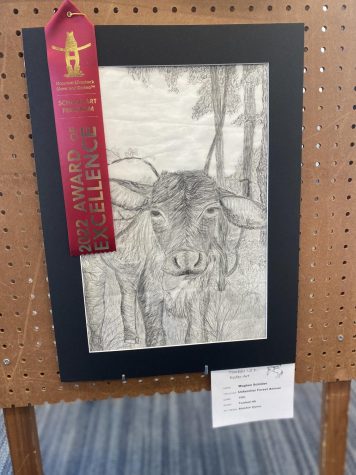 Tomball ISD hosted a Rodeo Art Show this previous weekend displaying different art pieces made by students throughout the district. It was hosted at the brand new Conference Center at the new stadium.
Many students from our own school were featured in the art show including Meghan Schilder. Other schools featured in the art show included Tomball memorial High School, Tomball Elementary, Tomball Intermediate, and many more.
Tomball Elementary third grader Sawyer Palmer had the opportunity for her art to be displayed in the show.
 " It feels like I was able to accomplish something," Palmer said. 
Meghan Schilder, sophomore a THS, also had her artwork shown at the conference center.
"I submitted my art to the Rodeo competition because it seemed like a fun opportunity to show off my art," Schilder said.  "I decided to draw a cow because it depicted the assignment of something westernor farm-like."
 It's amazing that students are able to be creative with different aspects of art and show them to their peers. Not only that, but they are able to win prizes and get recognition for their art.