Finger brings pickleball to THS
Playing pickleball is one of many great passions for Dual Credit College Algebra teacher Sharon Finger, and she's bringing it to the students at Tomball.
Finger discovered her passion for pickleball in her hometown of St. Louis Missouri.
"The only time I was able to play was when I visited," Finger said. "That's why I wanted to bring this wonderful sport to Tomball."
Finger made a presentation to the city in 2016 to place pickleball courts in various parks around Tomball. The city approved her pitch and the first court was built in 2017.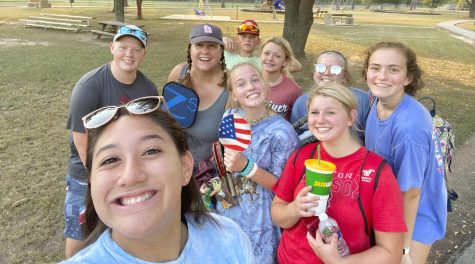 A single court was built at the Tomball depot and instantly became popular. As a result of the growing demand for the sport, two courts were added to accommodate more players at Juergens Park, a prime location for THS pickleball fans due to its location to the school.
Finger was on her way to play pickleball when she found the courts occupied by some of her students, who were using ping pong paddles to play. Eager to share her passion with them, Finger taught the students, including junior Liz Breaux, how to play, and she knew she had to make pickleball an accessible sport to more students at Tomball.
"Pickleball is truly a game for all ages and skill levels," said Finger. "After playing just one time most players develop a passion for the sport."
With Finger's help, Elizabeth Breaux will be president of the new Cougar Pickleball Club. 
"The rules are simple and super easy to pick up," Breaux said. "Joining the club is a great opportunity to meet new people and learn new skills."
The City of Tomball recently approved a grant to add four more courts to Jerry Matheson Park, conveniently located just across the street from Juergens Park. 
For information on joining the Cougar Pickleball Club visit room 1336. Club meetings are every Thursday.