Isaacks marching through high school
Tomball High School is a bustling school with many kids. Some of these kids take part in using their athletic abilities. Others use their talent in more creative aspects such as dance and art. One student though, who seems to be musically inclined, has a love and passion for Band.
Emily Isaacks is a sophomore at Tomball High School and is a part of the Tomball High School band. She has been playing Bass Clarinet for around five years.
Being in band is like any other extracurricular. It allows a sense of community for many students. It brings many students closer together.
"Everyone in band is all close because we all love what we're doing," Isaacks said.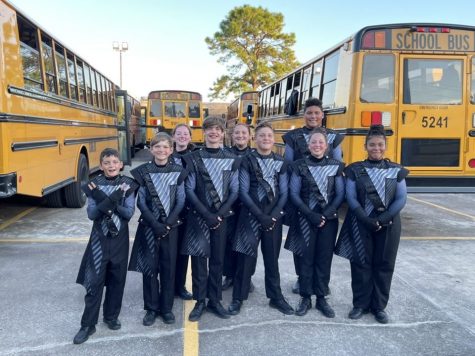 While band is definitely a great option for many people, it can come with some commitments and sacrifices.
"Band is a big commitment, we have rehearsal three days a week and a game on Friday," Like any other extracurricular, it can take up your precious weekends. "Sometimes compaction on Saturday where we don't get home till seven pm". Often, it pushes them to their limit but allows them to become stronger than they were before.
Collectively, band allows many students to present their talents in a creative way. Tomball High School is filled with loads of talent. So next time you see someone, ask them what they do after school.