Green's rise to Tik Tok fame
Jackson Green did not always have hundreds of thousands of people watching his videos every day.
In reality, Green is just a normal kid. But with the growth of the social media platform Tik Tok, he now has more people following him online than ever before, racking up nearly a million on Tik Tok and over 60,000 on Instagram.
"When I started I had no followers," he said.
And what was just an unused app on his phone has since turned into so much more.
"When [the app] first came out, I had it but I never posted on it," Green said. "Then I started to put videos up and I actually enjoyed making them."
Green began making videos at the end of summer 2019, and quickly went viral. On Tik Tok, you can go viral if you get on the "For You Page," which can give millions access to videos right on their home page.
"I was just making them for fun and I started making my own thing," Green said. "One video did really well, and then I started making other [similar] videos, and it just went up from there."
Since then, Green based his content on the feedback he got from followers, increasing his follower count exponentially in just a few short months.
"There have been times that I've done similar videos, and I've repeated the same format," he said. "But I'm also trying different [types of] videos."
Tik Tok quickly developed into an important outlet for Green, becoming about more than the number of views or followers.
"It's something fun to do," Green said. "I like making the videos and I like people saying they enjoy them."
But with this fame comes some unexpected side effects, such as classmates and teachers finding out about Green's account and even getting recognized in public.
"I've had people at the mall [recognize] me," he said. "And when I came back from a trip, two people on the plane knew who I was."
And while many on Tik Tok get hate comments and experience hostility from other users, Green is grateful that he hasn't had the same experience.
"I can't say that I've had a negative impact from this," he said.
The app that has become so important to many creators has had the same effect of Green, allowing him to make content both he and his fans like.
"The best thing," Green said, "is that it's an opportunity to do something I really enjoy."
Follow Jackson Green on Tik Tok @thecolourgreen
About the Writer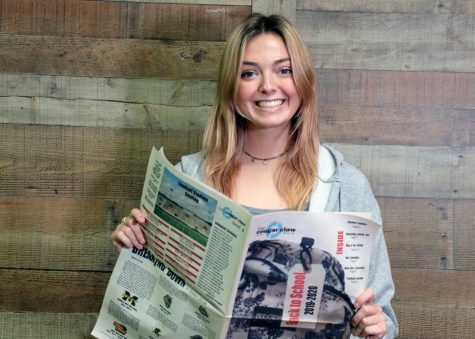 Jenna Jaffray, Editor-in-Chief
Hi! I'm Jenna and I'm the Editor-in-Chief for the Cougar Claw and a senior here at THS. I love to play lacrosse, read, write, watch basketball, and...