Rath settling in to 'big city'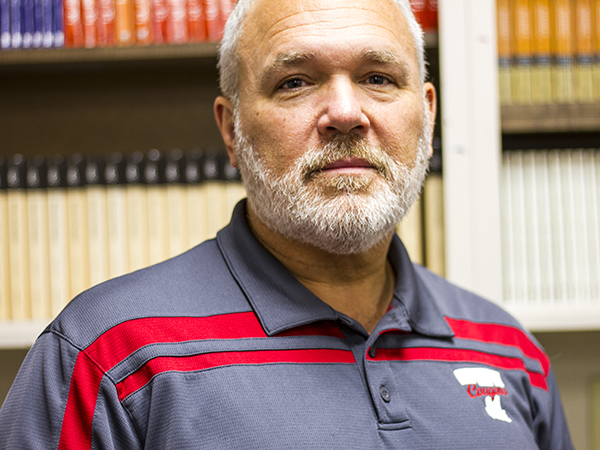 Hang on for a minute...we're trying to find some more stories you might like.
The first thought that pops up as people walk into room 1208 is how perfectly organized everything is. On the counter to the right a collection of matching books is perfectly stacked, one exactly aligned to the next. The glass bookshelf in the center of the room has books arranged by size. To anyone, it looks as if every piece in their corresponding space; nothing looks out of place. Every single detail of the classroom has clearly been thought of twice.
The first question I ever asked him was if he is always this organized. It seemed to me he hadn't necessarily realized this quality, he scrunched his eyebrows and took a second to reply telling me that he did, in fact, keep things this way. Such neatness was impressive for a someone who took a job halfway into summer.
James Rath comes from Wyoming and "lived there for waaayy too long." After living in Fort Collins, Colorado for about 20 years, he moved to Tomball this past summer. Apparently the small town is often unknown of as he expands his answer without waiting for a response "It is about an hour away from Denver."
While he has been teaching for eight, his move was not specifically for a job opportunity.
"My spouse got a really good job paying here, so I followed," he said.
The difference between before and now is huge, literally.
Not only did he live in a small town, but Rath said the last school he was at was also petite.
The graduating class of his last school was made up of thirty nine students. For him "this school is huge. My classes are huge." In just one class period Mr. Rath gets a minimum of 17 students. The sizes have caused his transition to be a "steep learning curve" and "less smooth" than what he originally expected.
Tomball High School is big in more than just the student body. The amount of technological programs he has had to learn to use is extensive, "now I have eight different programs" which he simply can't understand. Too much of everything have caused him a great deal of confusion.
"For the most part I like the energy of the kids," Mr. Rath says just as he is helping about six different kids at the time raise their grades. Throughout the first few weeks he has shown an extensive amount of patience with every one of his students even if some, not many, started the year with a set mind about him. It is the welcoming, polite kids that have helped with the change he hopes to stick with "until I retire."
Teaching is part of his long run plans and appears to be something he does with joy, but Mr. Rath laughs as I ask him if it is his dream job.
"Winning the lottery is a dream job," Rath jokes, then with seriousness says, "Being a chef or owning a restaurant would be."
Mr. Rath's favorite pastime is cooking.
"I don't have an absolute number one dish," Rath said. "I love all desserts, but baking is not really my strong suit."
As he scrolls through pictures of his mouth watering paella and a salmon, it is clear to me, once again, that the one quality that stands out the most is his love for organization. From the classroom to his dining table, every object in Mr. Rath's life seems to be perfectly organized.