Exchange student from Germany engages in new culture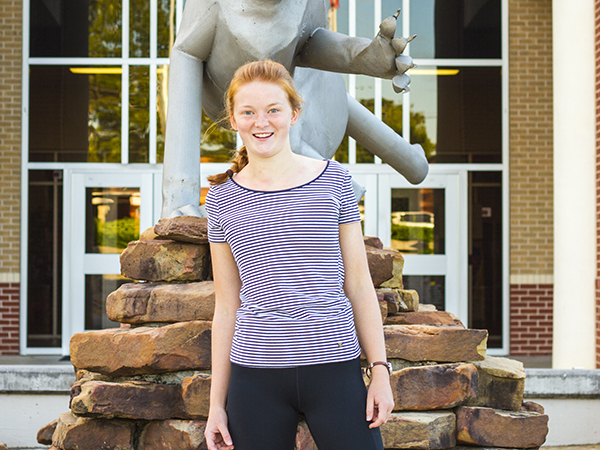 Hang on for a minute...we're trying to find some more stories you might like.
Insa John is the newest German exchange student at THS, part of an annual program that brings students from around the world to our little town.
Insa will continue to be in America for about six more months, following her previous four.
Insa is from a small town in Germany called Telgte, a town on the outskirts of Münster. There she lived with her parents and three siblings and attended a Gymnasium, a school based around sports.
"It just seemed interesting and I love to travel and have the chance to meet new people," Insa said. "Also, my siblings were foreign exchange students and they told me a lot about it and it sounded fun."
Many students believe that becoming a foreign exchange student is an easy program to sign up for, but that's not the case. The foreign exchange program is a very complex program that takes months of planning and numerous tests that must be passed to even qualify.
Telgte and Tomball are what many people call "sister cities". Sister cities are cities that make exchanges with one another, specifically student exchanges.
In Telgte, Insa had to write an essay, complete an application, and maintain good grades in order to qualify for the program.
The program requires a lot of work, determination, and good spirits. Students will be flown thousands of miles away to a country unknown and foreign. This can be a difficult situation since not many students, nor teachers, are even aware of the processes itself.
"I don't know much; I have a student who is from England but I don't really know much about the program," math teacher Danielle Seaman said.
There are many difficulties within the student exchange program, one of the many common ones being living situations.
"I live with a host family," Insa said.
A host family is a family that takes in another child from another country or culture to stay with them with no cost. These are the key to the exchange programs. The not only provide housing but a place to belong.
"Personally, I don't have many problems with homesickness; I miss them, but it is the thought of knowing they are okay that makes me feel okay," Insa said.
Most student exchange programs last between 6-10 months, maybe even longer which can be difficult on many students. It is for that reason and many others that the process of choosing exchange students is so important.
"It is definitely easier to speak the language before (you visit the country)…Also it is interesting to see new cultures and the difference between Germany and America," Insa said. "Being a foreign exchange, because of everything being new, can be difficult, but it is also a lot a fun."