Elvis leaves the building on top
Hang on for a minute...we're trying to find some more stories you might like.
At the Talent Show, the acts varied from dancing to singing, to a comedy show and hula hooping. Junior Elvis Borja placed first in the Talent Show, followed by the Princess Project in second place, and Madelyn Harris, who was part of the Princess Project, in third with her original song Steps.
"I felt proud of myself that I won the talent show," Borja said.
The money won by the second place winner, the Princess Project, was later donated to the charity the group was named after, which provides free prom dresses and accessories to high school teens. It also seeks to promote self-confidence and individual beauty.
"The other [act] I did was with a non-profit called the Princess Project," Harris said. "We dress up as princesses and go to nursing homes and hospitals to sing and bring joy to people, which is why we entered it."
Borja was determined to accomplish his goal and do his best. With hard work and determination, he placed first in the Talent Show.
"I had no expectations for the talent show," Borja said. "It was either I won or lost but I expected myself to do my best and nothing less."
Being the new student wasn't easy at first, as the semester had already begun but he stayed positive that he would make new friends and enjoy school. Borja decided to join the choir, where he immediately found his place.
"The biggest challenge I found at the talent show was the competition," Borja said. "Reason being was because most of them are in choir with me and are all tremendously talented as
well."
Borja first began to sing when he joined the choir in 8th grade and later realized that he was talented at something he enjoyed doing. Borja is not only a singer but he also self-taught himself how to play the guitar and as of now he is determined to learn how to play the piano.
"It took me like 2 years to learn [how to play] the guitar and I'm just learning piano but I started in November," Borja said. "I had to figure it out on my own… and after I got it figured out I started practicing."
The Talent Show is not easy either. Whether the competitors put in a little or a lot of time into preparing, everyone had to practice and work their hardest, including Harris, who participated in 3 acts at the Talent Show.
"I prepared quite a bit," Harris said. "I wrote my song at the beginning of the month and I had to practice it a lot to get to the point where I was comfortable singing it in front of a lot of people."
Although Harris already had experience performing after participating in last year's talent show, her performance was more personal this year.
"Last year I did really well in the talent show so obviously this year I wanted to as well as last year. I did it more to have fun than anything else," Harris said. "I've been having some thoughts recently and writing quite a lot and this year I found something that I thought a lot of people could relate to and that's why I wanted to share it."
To Borja, the most memorable part of the talent show was what he learned about himself.
"I learned that I'm capable of accomplishing anything if I put my heart and dedication to it," Borja said.

About the Writer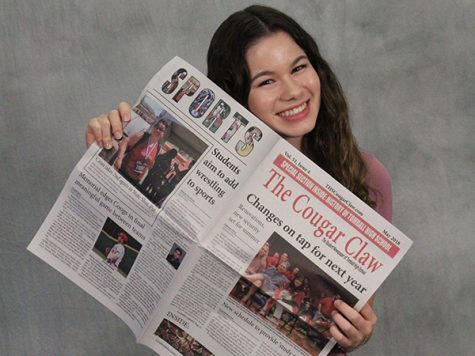 Sabrina Ulloa, Editor-in-Chief
Hi Coogs! I'm Sabrina Ulloa and your Editor-in-Chief for the year. I'm a senior this year and so excited to be working along the newspaper staff to create...