Charms make Magic Kingdom memories
Hang on for a minute...we're trying to find some more stories you might like.
Bright and early on a recent Thursday morning, 30 girls on the Cougar Charms drill team arrived at terminal C at George Bush Airport along with sponsor Brittany Huebner, four chaperones, and Assistant Principal Russell Evans. The plane took off at 7:30 and after a 2-hour flight and a time change, the plane landed at 11 a.m. in Orlando, Florida.
The Charms performed at Disney Springs Market Place stage on Friday night. After a month of practicing, the 15 minute performance was ready to go on stage. The performance included dances from football season as well as some new dances from the dance officers and elite team as well as from the returners and team members. The dances were now set to Christmas music, from classics like "Rockin Around The Christmas Tree" to a remix of "Last Christmas".
"It was so much fun. I just felt an exhilaration when I was up on that stage," Giselle Reyes, a senior and president of the charms, said after performing Friday night.
"The crowd was great, a lot of people showed u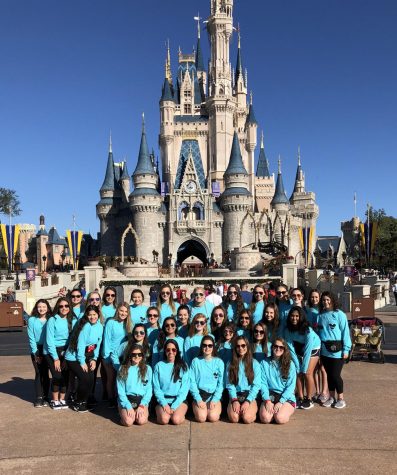 p," said Brooke Garza, a social officer on the team. "We got so many compliments while we walked back to the bus."
After the performance, the charms spent two more days at the Parks.
"My favorite was when we were in Universal Studios because of the rides," Garza said. "My favorite ride was Harry Potter Forbidden Journey, because it was virtual reality and it was so much fun."
"My favorite memory," Reyes said, "was on the Hulk ride at Universal was when a park map flew out of someone's pocket and flew on my face and I thought it was a bird. I missed half the ride."
"I just loved every moment of it because I was with an amazing group of girls," Reyes said. "We made so many inside jokes and it made the trip so much fun."
The Cougar Charms are now preparing for competition season in March. With early morning practices and Saturday rehearsal, the charms' schedules become crazier.