Green Teen makes difference with volunteer efforts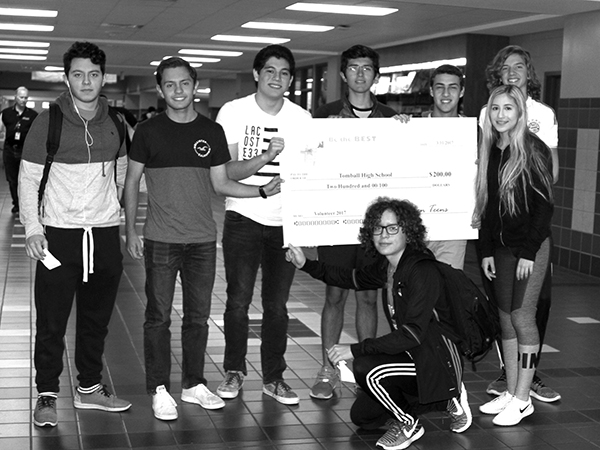 Hang on for a minute...we're trying to find some more stories you might like.
This volunteering group started small just as any other group starts. At the beginning of 2016, Cesar Tellez and Julio Rodriguez began volunteering every time a new opportunity opened and they began calling themselves "Green Teen."
Green Teen first began with the need for volunteering hours for school, but over time that idea changed and it became more about making new friends who shared the same purpose, strengthening relationships and giving to others.
"Since my sister did not have the time to volunteer, she encouraged me to do so to improve my chances at a better education. It was from this that I got the idea to start Green Teen with Cesar Tellez," Julio Rodriguez said.
As time passed, Green Teen began to grow and students from Tomball High School willingly decided to dedicate their free time to contributing in volunteering work in which they served their community and others around them. This developing group of youth have served alongside each other and have served in places that go from Houston all the way to Africa.
At any given time during volunteering activities there are about 10 to 15 teens helping out with projects.
"The motivation to help out the community around me encouraged me to join Green Teen. Giving back to the community as well as helping others offers many benefits. For example, it can teach you more about yourself and about others around you leading you to a more prosperous life," said Andre Devez, a member of Green Teen.
Green Teen has now worked on various projects which usually last for about 3 to 4 hours, such as volunteering for Muddy Trails in The Woodlands, the Trash-Off to clean trash off the streets, the Memorial Hermann Ironman as crowd control, for The Woodlands marathon as the finish line breakdown crew, for Earth Day Greenup, and in Africa to teach children how to read and write in English.
"Well, doing work for the environment and community feels great. And when we work together as a group, there's certainly a feeling of cooperation, which enhances our experiences," Tellez said.
The group's efforts to engage in service has gone a long way since they started and have now accomplished over 10 service projects including going to Africa.
In the summer of 2016, two Green Teen members felt they were needed in a place where the children did not have the same opportunities as we have to an education. They left their homes to serve children in Africa and teach them English as well as share their love with them.
"The children really didn't have much, so I definitely felt it was a great honor to have had the opportunity to have helped them as much as we could. And it really felt good, I'd say that's when I truly felt I was making a difference," Tellez said.
Both Tellez and Rodriguez would wake up every morning knowing every day that they were going to make someone's life better and happier than it was the day before. Knowing that helped them develop new skills and a love for the kids that they taught. They believe that everyone should work and care for each other in order to strive torward a brighter future for everyone.
"After my trip to Africa, I began to have more consideration for a lot of the things that I took for granted in the past. For example, I recall that there were no washing machines the place where we stayed; we had to go outside and wash our clothes by hand. Hence, I began to appreciate washing machines more," Rodriguez said.
These hardworking members of Green Teen have now been given $200 as a thank you for the amount of volunteers which they brought along with them. Green Teen decided to donate the money to the THS Student Council.
Service can develop critical thinking and problem-solving skills and grow your understanding of diverse cultures and communities. Doing service can benefit you academically, professionally, and personally which helps you develop or enhance your skills.
"Every time I help someone, I feel that I gain some sort of understanding from the experience," Rodriguez said. "It might not be a world-changing discovery, but I think that these acts help me become more open-minded toward others.
"I do believe that it is important to serve in one's life. Helping others often proves to be a valuable learning opportunity, in my experience."