Coming Home: Sisters get the ultimate surprise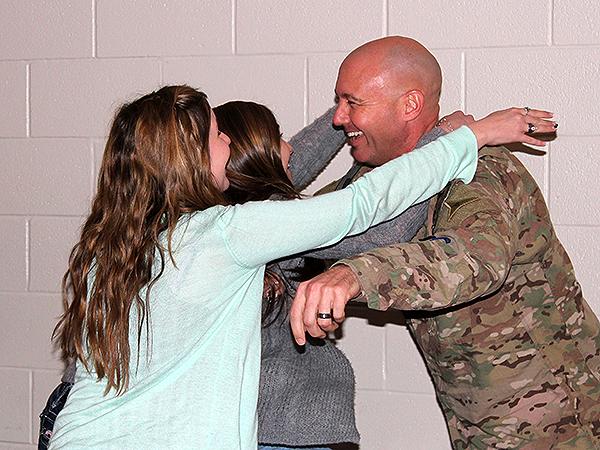 His boots are tightly knotted; his camouflage uniform is perfectly adjusted; and his neatly trimmed buzz cut is just peeking behind a sofa in a school classroom. He is waiting.
Lieutenant Colonel William Kaczynski had been stationed in Afghanistan for 10 months. His daughters, freshman Haley and junior Maddie Kaczynski hadn't seen him since October, when he was on leave for a short period of just a few days.
Phone calls were not abundant.
"Occasionally, he would call me, but the service was never good," Haley said.
With an unreliable service connection overseas, the girls were lucky to get more than a few minutes' worth of randomized time talking to their dad.
"It was hard because I am so close with my dad," Madi said.
The girls e-mailed their father when they could, but it couldn't replace the face-to-face interaction other children take for granted with their parents.
Waiting was a way of life for them. The sisters didn't expect their father to come home for a while.
Last Friday, however, the army officer found himself anxiously waiting for a knock on the door and a tap on the couch- the signal for him to jump up and surprise his daughters.
The girls thought they were attending a student council book signing in the luncheon room, and were told to be there during lunch that day.
Then there was a knock. The room, filled with APs, supportive classmates, and family awaited silently in anticipation as the door was opened.
The girls were led closer to the back of the room where the couch sat.
"How are you?" the Lieutenant shouted as he stood straight up from his hiding spot.
The girls jumped in his arms.
"I always had hoped that would happen like when you see videos of dads surprising their kids," Madi said, "but I never thought it'd happen."
The journey for the girls had not been easy. Since they were small, they had moved among the states for their father's work.
"We lived everywhere," Haley said.
Tomball had been their latest destination, having moved eight times prior.
But after 20 years of serving his country and several months spent apart from his family at a time, Sergeant Kaczynski was finally done waiting.
This year, 2014, was to be the last of his time spent overseas.
"Are you done?" his hopeful daughters ask, still embraced in his arms.
"I'm done."