Senior's rodeo art sells for $25,000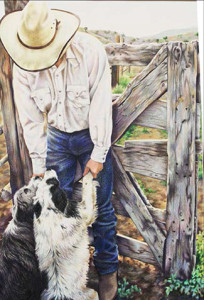 Senior Amanda Jentzch didn't expect what she was about to hear, her heart pounding faster and faster, as she stood in front of the crowd of bidders at the rodeo eying her artwork as if she were showing an animal.
She held up her detailed colored-pencil drawing, the one she spent over 67 hours on, the vibrant colors woven together intricately.
There were many attractive aspects of the drawing, but a black and white border collie in the bottom left of the picture caught the eye of one buyer – and that's all it took.
The auctioneer rambled off numbers that could hypnotize. But the very last numbers were hard to miss.
"I heard 'twenty-five thousand' and I was like 'What?'!" said Amanda, whose artwork went further into competition than anyone else's from Tomball.
The drawing – taken from a picture Amanda took of her dad's friend leaning down, in full cowboy attire, to his black and white border collie named Cash, had just been bought for $25,000.
"Cash is the money maker," she joked.
Although her drawing sold for a large sum, every student whose work is auctioned at the rodeo can only take back with them a maximum of $2,000. The rest of the money goes to charity.
Amanda's rodeo art from last year went to auction as well. Though her art did not sell for nearly as much as it had this year, she still received the maximum of $2,000, which she had used to help buy a car.
This year, though, she plans to put that money towards college, planning to attend BYU in Idaho in the fall. Amanda accredits her family to her art skills, having grown up in a house full of artists.
"My sisters and I, we drew all the time. Art was always around me." she said, growing up in a family with an architect dad, artist mom, graphic designer step brother, a crafty younger sister (whom Amanda believes is her biggest critic), and her older sister, whose previous painting had made it the rodeo as well.
Even with a big background in the arts, however, Amanda says she doesn't think she will make a career out of it.
Amanda plans to attend BYU in the fall. She says she wants to be a park ranger someday, making art more of a hobby.