Imagine Dragons to release new album in near future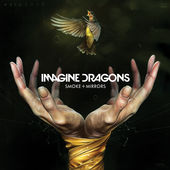 Hang on for a minute...we're trying to find some more stories you might like.
The hit alternative band known for their single, "Radioactive," is back in the studio. On February 17, Imagine Dragons is set to release their newest album titled, "Smoke + Mirrors."
So far, only three singles from the album have been released: "I Bet My Life," "Gold," and "Shots."And if the rest of the album is a great as those songs, it should be a sell-out.
"I Bet My Life" is a fast-paced, great beat, alternative kind of song. It features catchy lyrics and impressive vocals. The use of a variety of drums really adds to the unique sound of the song.
"Gold" also features meaningful lyrics that tell a story. It starts out with a sort of African influence and then transitions into something a little more electronic.
The single, "Shots," was released more recently. It is not quite as unique as the other two songs currently available, but it is still a great song. It continues to feature a solid beat, amazing vocals, and an upbeat melody.
All three songs are a little different from past work by Imagine Dragons. The songs seem to be more authentic and rich. The singles tend to resemble "Radioactive" more so than any other song on Imagine Dragons' previous album, "Night Visions," yet they still offer a new sound.
The album is currently available for pre-sale.
Rating: 4/5
Though these songs are extremely well written and catchy, they are not the best that Imagine Dragons is capable of. It is safe to say, however, that we can expect great things from "Smoke + Mirrors."