Pain, endurance for Panamanian six-year-old
Rafaella Lopez, Staff Writer
October 2, 2018
The torso is slightly crooked to his right; his knees are so close together the rest of his legs are completely stiff. Every single one of his limbs is pointing on a different direction. It is easy to think he is forcing his stomach out, not jumping to the possibility that his spine is curling a little more every day. He has no balance whatsoever, any time now he could be on the ground. A tiny, awkward figure with a huge, balanced smile.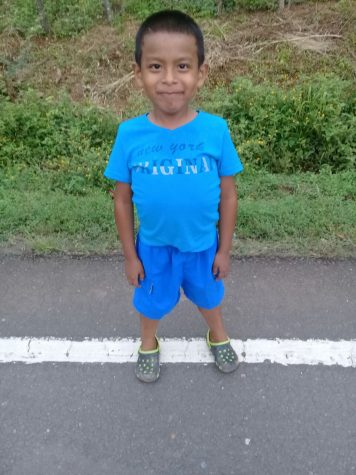 At six years old Alexander Concepcion knows more about pain and endurance than most adults and he doesn't even realize it. Alexander was born with Duchenne Muscular Dystrophy (DMD) in Santiago, an extremely poor province in Panama; both factors to a life of constant challenge.
DMD is a rare genetic disorder in which the muscles progressively weaken. This type of dystrophy is usually presented in males with symptoms showing as early as three years old. Individuals with DMD have, at first,  difficulty walking, sitting and standing. Not only are muscles affected, but eventually bones deteriorate. Heart and lung problems also present in their early teen years.
These health problems create physical limitations that prevent Alexander from growing intellectually.
"All he wants to do is go to school, but he is so fragile," said his aunt, Isela. "Back at home the family refers to him as Porcelain Doll."
Santiago is a province about six hours away from the capital city of Panama. It is mostly undeveloped and the majority of its population lives in poor conditions. These poor conditions extend to the school and are keeping Alexander out of school.
"Since he is a Porcelain Doll and the school doesn't have many resources it would be impossible to have a staff member always keeping an eye on him," Isela said. "They won't allow him to attend because it is extra work they can't afford."  
Alexander is not stopped by his environment's limitations; every day he wakes up a little earlier than the other children in the community and, with his mom, heads to the school. Ale is only there for an hour, but it is enough to help him lift his spirits.
Learning and playing with his cousin help him get through the day. Isela, his aunt, said that "every day, when my six year old son arrives home his cousin used to be there waiting for him to play. Now a days he is so weak my son has to go to him. They can't be apart from each other. My son constantly says Alexander is his best friend."
To his mom and grandmother it is those moments of happiness that make their effort and sacrifices worth it.
Panama is a relatively underdeveloped country with a weak economy, meaning that the minimum wage is incredibly low: $1.12. Alexander's parents have worked minimum wage jobs their entire lives. Currently, his father, Alex, is making the sacrifice of working the night  and day shifts at a steel company. Yolanys, his mother, and Elena, his grandmother, take turns staying home and taking care of Alexander. With a sole minimum-wage-job income the family is barely able to sustain itself, even less to pay the medical bills and trips needed weekly.
Weakened muscles create stiffness and pain, the only way to delay this is with weekly muscle therapy.
"We make two trips to Aguadulce weekly for muscle therapy," said his mom. Aguadulce is another city in Panama about three hours away from their home. The Concepcion Family's insurance doesn't cover for bus trips or therapies. The expenses are "almost impossible to cover."
The tight community the family lives in is continuously raising funds to help Alexander have the best quality of life possible. Fundraisers, such as collection of money on the streets, are often taking place. Alexander's fight with DMD is progressively weakening, just like his parent's ability to sustain the costs of such disease.
If you want to help Alexander and his family out you can donate here.