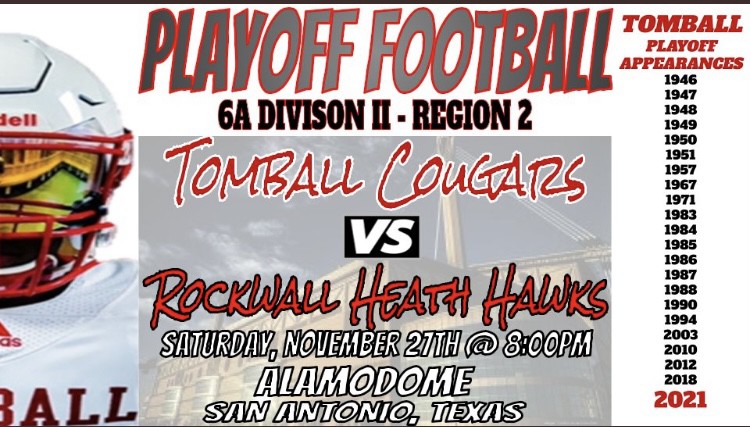 The Cougars won their rematch against Willis 37-7 on Friday to claim the area championship and advance to the third round of the playoffs.
Tomball will face Rockwall Heath (11-1) on Saturday, Nov. 27, at 8 p.m. at San Antonio's Alamodome. Directions from THS to the Alamodome are here. Heath was the District 10-6A champions, going undefeated in district.
Heath is led by quarterback Josh Hoover, who has passed for more than 3,000 yards and 38 TD passes this season. Senior Zach Evans is the team's top running back with more than 1,800 yards rushing and 25 TDs.
Tickets can be bought in advance at the THS Field House on Tuesday from 12:30-1:30 p.m., or Friday from 9-10 a.m. only. They are $12 each and only cash will be accepted.
Tickets can be bought at the gate on Game Day for $14.
Charter buses are available to take fans to the game. They will load at 2 p.m. on Saturday, and will return after the game. Student bus tickets are $20, and non-students are $45 per person. Visit thasabc.com to reserve your seat.
Due to the Thanksgiving holiday, the Cougar Claw will not have extensive coverage on our website until next week, but will offer live updates from the game on our Twitter feed, and updates through Facebook Live.
Follow us on Twitter @CougarClawNews or on Facebook at facebook.com/TomballHighMedia.