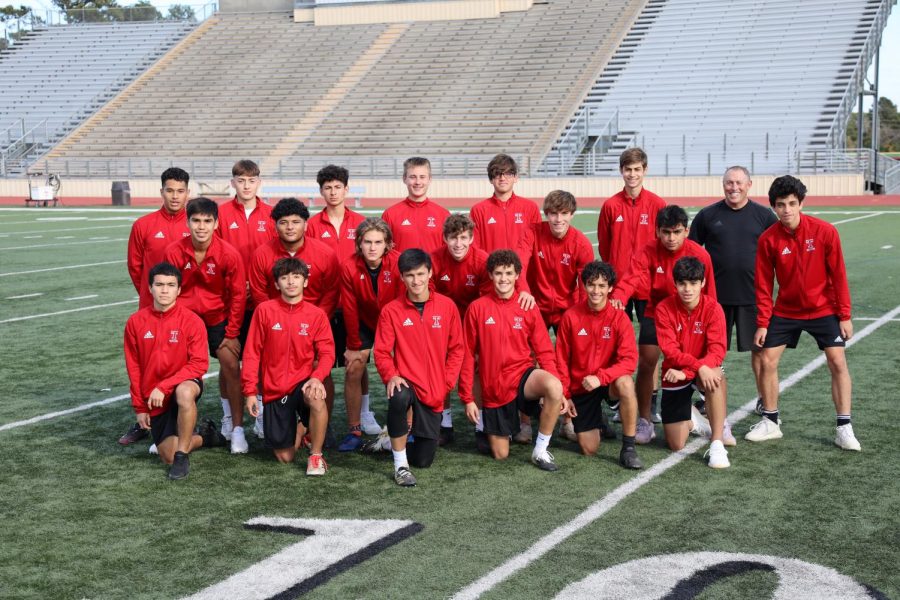 Staff photo
As the second semester is now upon us, it means the start of the soccer season, and the Boys Varsity team hopes to come out strong. 
The larger 6A schools have many more players to choose from and larger teams, potentially making it difficult for the Coogs to measure up. But the coaches believe that they can hold their own this season.
"Both squads from the top are full of talent, enthusiasm, quality. I'm really really excited about this season," said Boys' Soccer Coach Martin Metcalf. "I think moving into this district, we have enough quality to compete."
The lineup will be one of the best Tomball has had in a long time. With some prior knowledge of how other teams such as Tomball Memorial and Klein play from scrimmages and tournaments, the team has a good idea of what to expect.
"We know that the other schools will be in that range of talent of Memorial and Klein, so we have our work cut out for us," Metcalf said. "But I'm very confident we can do it."
As the new season approaches, the upperclassmen on the team reflect on previous seasons and look forward to upcoming games and challenges that will come with it.
"It's going to be really competitive, definitely more competitive than last year," said senior Ashton Contreras. "But I still think with the team that we have, we have a chance of doing pretty good in the season."
Girls' Soccer is also prepared for the challenges ahead of them with moving up to 6A and going against bigger schools.
"I think we're going to be able to compete. We're pretty strong against the Klein Schools on both levels JV and Varsity," said Girls' Soccer Coach Victoria Parsons.
The Girls Varsity team has a long history of winning seasons, and recent playoff experience that will help them compete against these large schools.
"We have a lot of new players that have great potential and I think we're going to do good this year," said Junior Katelyn Brown. "We have a solid team that can keep up with 6A schools."
Both the Boys and Girls Varsity soccer teams will definitely have their work cut out for them with the matchups against the new district swiftly approaching.
However, they're up to the challenge and give Tomball Memorial and the Klein schools a tough opponent, and come out on top in their first season as a 6A school.