Track shows off at A&M Consolidated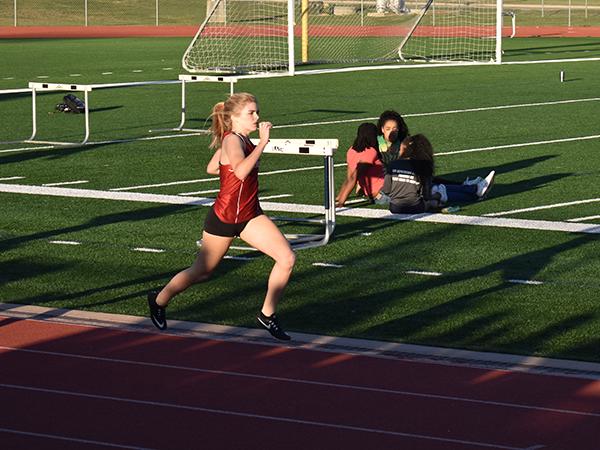 Hang on for a minute...we're trying to find some more stories you might like.
Varsity Track performed exceptionally at their most recent meet at A&M Consolidated last Thursday.
In the 100 m run, both Darius Taylor (12th) and McKena Law (11th) made 11th place overall.
Faith Allen (12th) with a time of 26.41 seconds tied for 1st place in the 200 m run, Brianna Turk (10th) earned 4th place with a time of 27.04 seconds, and Morgan Law (11th) won 8th place with a time of 27.57 seconds.
Caroline Flanagan (9th) with a time of 2:29.98 minutes earned 3rd place in the 800 m run, Sydney Sizemore (11th) won 5th with 2:39.41 minutes, and Barbara Padron (9th) earned 6th with a time of 2:33.2 minutes.
In the 300 m Hurdles Toni Trail (12th) earned 2nd with a time of 50.8 seconds.
A team comprised of Sizemore, Padron, Allayah McWright (12th), and Flanagan earned 1st in the 4 x 400 relay by completing the race in 4:15.54 minutes.
Riley Cross (11th) and Miles Marhofer (12th) earned 1st in shot-put with Cross making a distance of 41′ 3", and Marhofer a distance of 53′ 6.5".
Cross also did very well in Discus making a distance of 111′ 2", and Miles earned 2nd place with a distance of 150′ 9".
In Long Jump, Taylor earned 3rd with a distance of 22′ 3", Allen won 1st place with a distance of 16′ 4", and Morgan Law earned 5th with a distance of 15′ 3".
The results are as follows:
100 m:
Boys- 11th
Girls- 11th
200 m:
Boys- 10th
Girls- 1st
400 m:
Boys- 8th
Girls- 6th
800 m:
Boys- 6th
Girls- 3rd
1600 m
Boys- 9th
300 m Hurdles
Girls- 2nd
3200 m 
Girls- 7th
4 x 100 relay:
Girls- 4th
4 x 200 relay:
Boys- 4th
Girls- 3rd
4 x 400 relay
Girls- 1st
Shot-put:
Boys- 1st
Girls- 1st
Discus:
Boys- 2nd
Girls- 1st
Long Jump:
Boys- 3rd
Girls- 1st
High Jump:
Girls- 1st
Triple Jump:
Boys- 2nd
Girls- 3rd
Pole-Vault:
Girls- 6th