35 things to do while quarantined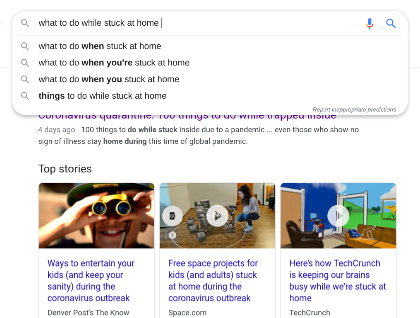 So here we are, another four weeks of Spring break except instead of going away on vacation the student body is stuck at home with parents and doing classes online.  Though video games, YouTube, and Netflix are great ways to kill the extra time, here is a list of 35 things to do while being stuck at home. (Links at the bottom)
Complete a puzzle: though it sounds boring, trying to complete a full puzzle is a great way to pass the time, especially if you're cooped up in a house all day. Don't have a puzzle? You can make one.
DIY everything: You can now attempt the cool things you see on Pinterest.  You now have the time to DIY to your heart's content. Start with the easy projects and use Youtube to your full advantage.
Learn a new language:
Practice an instrument (if you have one): I see you, band and orchestra people! Practice your instruments over the extended break and to those who used to play instruments try relearning to play (if your neighbors don't mind).
Rewatch old movies: Nostalgia is something that never gets old. Try to make a list of all the old movies you'd watch as a kid or maybe ask your parents for movie ideas. This is a great way to spend time and have fun.
Try writing: Getting all your emotions on pieces of paper can help your mental health. Also, poems make great Mother's Day gifts (wink).
Meditate: Meditation is a great way to help pass time. If you are feeling anxious try meditating for 15 minutes and just focus on your breathing. You can do this outside or in your home. A good app that can help with this is Headspace which can start you off with the basics.
Baking: This is a great way to kill boredom and get a delicious treat. Cookies are fun to make, especially with friends and family, and this also gives you an opportunity to learn some of your family's secrets recipes.
Write letters: We all text our friends, that's just life these days. Making written letters can be a cool way to talk to your friends or
Learn calligraphy: Youtube and Google, you can never go wrong.
Clean out the junk drawers: I know you all have them, the drawers filled to the brim with old trinkets and junk that you never use but might need. Trust me, you don't need that puppy notebook you got at the scholastic bookfair when you were in sixth grade.
Try on all your clothes: This one will help you clean out the closet. I know that shirt from freshman year still fits but is it really you?
Have a sit-down circle: Whether your living with your grandparents, roommates, parents, or your twin sister it's good to have a sit-down circle to just talk and understand what everyone is thinking. All the extra time at home is great for working out old conflicts.
Reconnect with old friends: This is where video-chat and Facetime come in handy. Try reaching old friends or ones that live far away, no one is going to school and most are working from home so the can't say they were "too busy" to talk.
Attempt a self-portrait: I know not everyone can draw but if you really are bored and up for the challenge, try looking at yourself in the mirror and drawing yourself. You can then challenge your friends to do the same and see who has the best drawing.
Return of Pictionary: I was never very good at this game but trying to draw something and have someone guess it can be fun but make sure your partner can at least draw a stick figure.
Knitting session: This is very relaxing and can lead you to get a new hat or sweater. Grandma would be so proud.
Yoga: Really take care of yourself and stretch out all your soreness from sitting on the couch all day. Work on your flexibility and release all your tension.
Treat yourself: Eat some chocolate while relaxing in a bubble bath with a face mask on. Give yourself some 'me' time.
 Coloring books: Breakout your crayons and colored pencils and try finishing some adult coloring books
Make a pillow fort: Pretend that you are eight again and try to build a fort in the living room then post a sign that says "No COVID19", it works every time.
Have a Star Wars marathon: Be sure to go in order and include Rogue One. That's all, you don't need to include the new trilogy unless you really want to.
Call your grandparents: Most of the elderly are quarantined and away from their families. Try to call them when you can and maybe have them tell you stories. You might hear the same one repeatedly but at least you know they are ok.
Learn how to braid: Unless you can perfectly braid your hair every time practice or learn how to braid. No one will know if you mess up because you can't leave the house anyway.
Make a memory book: Go through all your old photos on your phone and print them out. This way you can
Clean your room: You really have nowhere else to go so might as well make your room livable. You'll be surprised when you find that you do, indeed, have a floor.
Make a list of things you're thankful for: Pretty self-explanatory but making a list of all the things you like in life can help you remember the things that are important. You can self-reflect on past choices and reaffirm the people you care about.
Try an indoor scavenger hunt: You can get a list from online easily and try to see how many of the items you actually have. I didn't know we had thin mints cookies in the pantry.
Watch all the Harry Potter movies: Read the books before each of the movies and compare the two, you'll be surprised by the differences.
Try improv games: This can be extremely entertaining even if it is through Skype. You never know what your family (or friends) are going to do and will end with you on the floor laughing.
Make your own hand sanitizer: This is a thing, don't panic that there isn't' hand sanitizer left because you can make your own. Youtube is your friend.
Try doing everything with your nondominant hand: This should be interesting, you won't be able to read your own handwriting or be able to throw a ball straight. Caution, you will get frustrated and that's ok.
Learn origami: Paper cranes are adorable and they double as cool little gifts. Or more things to leave around the house.
Time your texting: See how many words you can time in a minute and then show off to your friends.
Learn pig Latin: Totally useless but extremely fun to use. Oronaviruscay isyay upidstay.
There's the list for all you bored people at home. More updates on what's going on for the school will be sent out here and on our app so be sure to check each daily.
Links:
How to Braid: https//youtu.be/m2g57cXO-2Q
Origami Crane- https//youtu.be/-elhDbZ6sds
Beginner Yoga- https://youtu.be/WwF7ooo1igE
Scavenger Hunts- https://www.scavenger-hunt-fun.com/indoor-scavenger-hunts.html
Hand Sanitizer- https://youtu.be/gVoHJX0utAE
About the Writer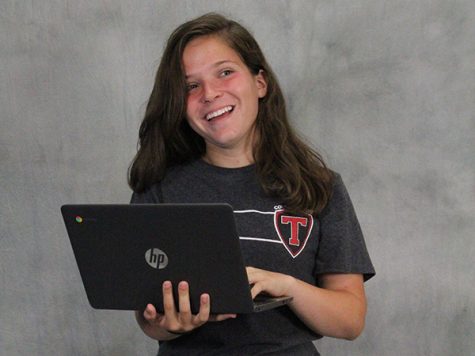 Abi Baldwin, Editor-in-Chief
What's up guys, I'm Abi and I'm the Feature Editor for the Cougar Claw.  I'm a senior and I play tenor saxophone in the Tomball Cougar Pride Marching...